FabricLive.33 Mixed by Spank Rock
MYLO - Drop The Pressure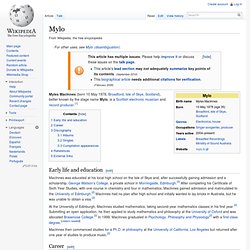 Myles MacInnes (born 10 May 1978, Broadford, Isle of Skye, Scotland), better known by the stage name Mylo, is a Scottish electronic musician and record producer.[1] Career[edit] MacInnes went to the private school, George Watson's College, in Morningside, Edinburgh. He attended the University of Edinburgh before graduating in philosophy, psychology and physiology from Brasenose College, Oxford, where he achieved a first class degree. He subsequently gave up studying for a philosophy Ph.D at the University of California, Los Angeles to return home and produce music. Mylo released his debut album, Destroy Rock & Roll in 2004, on the Breastfed Recordings label, which he co-owns.
Mylo
Mr Oizo - Nazis (Justice remix)
Justice (stylised as Jus†ice) is a French electronic music duo consisting of Gaspard Michel Andre Augé (born 21 May 1979 in Besançon, Doubs) and Xavier de Rosnay (born 2 July 1982 in Ozoir-la-Ferrière, Seine et Marne).[2][3][4] The duo is one of the most successful groups on Ed Banger Records[3][5] and is managed by the label's head, Pedro Winter. Justice is known for incorporating a strong rock and indie influence into its music and image.[5][6] Gaspard Augé and Xavier de Rosnay 2007 in Paris Justice at Rock Werchter 2008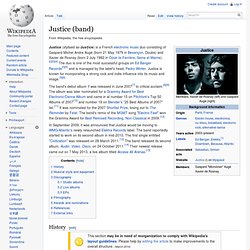 Justice (French band)
CSS Let's Make Love and Listen to Death From Above (Spank Rock Remix)
CSS (band)
CSS (an initialism of Cansei de Ser Sexy) is a Brazilian rock band from São Paulo. The band was labeled as part of the explosion of the new rave scene. Their songs are in both English and Portuguese.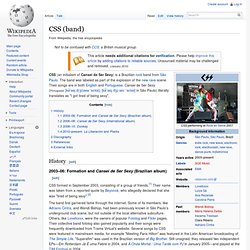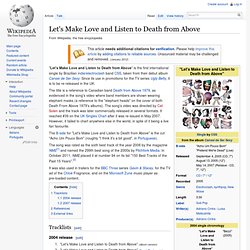 Let's Make Love and Listen to Death from Above
"Let's Make Love and Listen to Death from Above" is the first international single by Brazilian indie/electroclash band CSS, taken from their debut album Cansei de Ser Sexy. Since its use in promotions for the TV series Ugly Betty, it is to be re-released in the UK. Another example of the promotional use of this song would be its use on the Microsoft Zune music player. The music video was part of the Zune pre-loaded content.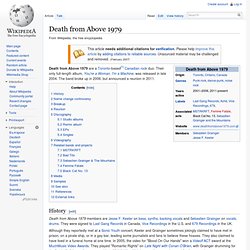 Death from Above 1979
Death from Above 1979 are a Toronto-based[1] Canadian alternative rock/noise rock duo. Their only full-length album, You're a Woman, I'm a Machine, was released in late 2004. The band broke up in 2006, but announced a reunion in 2011. History[edit]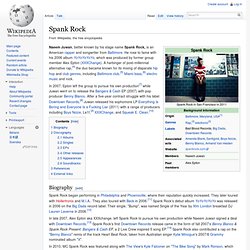 Naeem Juwan, better known by his stage name Spank Rock, is an American rapper and songwriter from Baltimore. He rose to fame with his 2006 album YoYoYoYoYo, which was produced by former group member Alex Epton (XXXChange). A harbinger of post-millennial alternative rap,[4] the duo became known for its mixing of disparate hip hop and club genres, including Baltimore club,[5] Miami bass,[6] electro music and rock.
Spank Rock
Kurtis Blow-The Breaks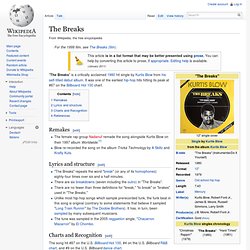 The Breaks
Remakes[edit] The female rap group Nadanuf remade the song alongside Kurtis Blow on their 1997 album Worldwide.[1]Blow re-recorded the song on the album Tricka Technology by A Skillz and Krafty Kuts. Lyrics and structure[edit] Charts and Recognition[edit] The song hit #87 on the U.S. Billboard Hot 100, #4 on the U.S.
Kurtis Blow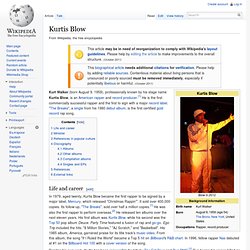 Life and career[edit] Kurt's acting performances and music coordination in several films includes Leon Kennedy's Knights of the City and the hip hop film Krush Groove. The New York Daily News called his cinematic works, "Noteworthy, a dynamic presence."[citation needed] As host and co-producer for Das Leben Amerikanischer Gangs, an international film production's focus on the West Coast gang scene, Kurt crossed international waters for inner city justice (1995).
Spank Rock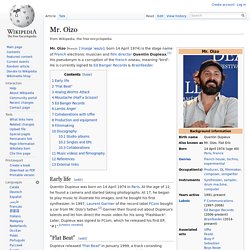 Mr. Oizo
Mr. Oizo (French: [ˈməsjø ˈwazo]; born 14 April 1974) is the stage name of French electronic musician and film director Quentin Dupieux.[1] His pseudonym is a corruption of the French oiseau, meaning "bird". He is currently signed to French electronic music record label Ed Banger Records. Beginning[edit]
Dominatrix - The Dominatrix Sleeps Tonight (Remastered)
Dominatrix (2) Discography at Discogs
Yello - Bostich
Yello
Dieter Meier (vocals, lyrics), a millionaire industrialist and gambler, was brought in when the two founders realised that they needed a singer. The new band name, Yello, was chosen as a pun based on a statement made by Dieter Meier, "a yelled Hello".[1] Yello worked extensively with singers Billy Mackenzie and Shirley Bassey.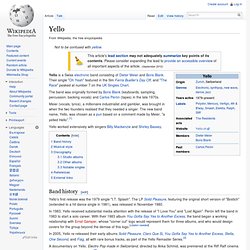 Zongamin - Bongo song
Zongamin Discography at Discogs
Kano - I'm Ready
Kano was a post-disco music project formed in Milan, Italy in 1979 by producers/musicians Luciano Ninzatti, Stefano Pulga and Matteo Bonsanto. Kano was one of the earliest music groups to usher in a new style of dance music called Italo disco. Kano's debut single was the 1980 international hit "I'm Ready", combining elements of 1970s disco, funk and R&B while extensively using synthesizers and percussive handclaps as well as raw-processed and vocoderized vocals. Kano's self-titled debut album also included "It's a War", "Ahjia", "Now Baby Now" and the instrumental track "Cosmic Voyager". "I'm Ready" peaked at #21 on the U.S.
Kano (band)
Daft Punk - Technologic
Daft Punk is a French electronic music duo consisting of musicians Guy-Manuel de Homem-Christo and Thomas Bangalter.[3][4][5][6] Daft Punk reached significant popularity in the late 1990s house movement in France and met with continued success in the years following, combining elements of house with synthpop.[4][5][7] The duo is credited with producing songs that are considered essential in the French house scene. The group was managed from 1996 to 2008 by Pedro Winter (Busy P), the head of Ed Banger Records.[8] Early in the group's career, the band members were influenced by groups including The Beach Boys and The Rolling Stones.[9] Bangalter and Homem-Christo were originally in a band called Darlin', which disbanded after a short period of time, leaving the two to experiment musically on their own. The duo became Daft Punk, releasing its critically acclaimed debut album Homework in 1997.
Daft Punk
Technologic
"Technologic" is a song by French duo Daft Punk from the album Human After All. It was released as the second single on June 14, 2005. The music video for "Technologic" was directed by Daft Punk.
Spank Rock
Switch - A Bit Patchy
Switch (DJ)
Switch is a British DJ, songwriter, sound engineer and record producer. He is best known for his work with M.I.A.. In the fidget house genre, Switch runs his own music label "Dubsided", as well as the label Counterfeet, established in 2006 with fellow producer Sinden. He has released various singles under his own name, and is also well known for remixing and producing for many major artists. He is a former member of the American electronic dancehall group Major Lazer.
The Contours (Dirty Dancing) - Do you love me
The Contours were one of the early African-American soul singing groups signed to Motown Records. The group is best known for its Billboard Top 10 hit, "Do You Love Me," a million-selling song that peaked twice in the Top 20. History[edit] Establishment and "Do You Love Me"[edit] Joe Billingslea (born November 14, 1937) and Billy Gordon founded a singing group called The Blenders in their native Detroit, Michigan in 1959. They completed the group with Billy Hoggs and Billy Rollins, who had responded to an ad placed in the local newspaper by Billingslea.
The Contours
Do You Love Me
Yes "Owner Of A Lonely Heart"
Yes (band)
Owner of a Lonely Heart
Para One: Dundun-dun
Para One
i don't care (something to make your eyes scream)
Best Fwends
Uffie - Hot Chick
Uffie
Hot Chick (Uffie song)
Feadz
Metro Area - Orange Alert (Original Mix) [Environ, 2002]
Metro Area
Love on a Real Train - By Tangerine Dream
Tangerine Dream
Tangerine Dream discography
Simian Mobile Disco - Hustler UK [HQ]
Simian Mobile Disco
FabricLive.41
The Romantics - Talking In Your Sleep
The Romantics
Talking in Your Sleep (The Romantics song)
Chicks on Speed - Wordy Rappinghood
Chicks on Speed
Playgroup (band)
Bonde Do Role- Melo Do Tabaco
Spank Rock
Bonde do Rolê
Miss Kittin The Hacker - Stock Exchange Women
The Hacker
Miss Kittin
Stock Exchange (song)
Rick Ross - Hustlin'
Rick Ross (rapper)
Hustlin'
Hot Chip - Over and Over (Maurice Fulton Remix)
Hot Chip
Over and Over (Hot Chip song)
Maurice Fulton Discography at Discogs
Gaznevada -- I. C. love Affair
Gaznevada Discography at Discogs
Love to the World / L.T.D.
L.T.D. Discography at Discogs