Gluten Free
Gluten-Free Recipes. Free Multi-Grain Crackers. This is a light, pleasantly crisp cracker that is flaky and tender- and you won't believe it's gluten-free and vegan.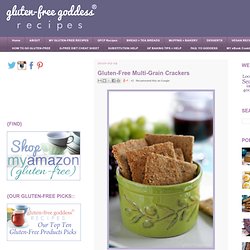 The texture is so elegant. Yet. The flavor retains an earthy touch of rustic, with a hint of... Our Gluten-Free On-Line Store | Gluten Freely. All About Celiac & Food Sensitivities 8 Best Gluten-Free Breakfasts Fresh from the Oven: 10 Gluten-Free Baked Recipes 7 Foods You Never Knew Contained Gluten The Best Gluten-Free Breads 6 Myths About Gluten-Free Eating Recipe Makeover: Carb Smart, Gluten-Free Pineapple Upside-Down Cake 11 Gluten-Free Pizzas That Actually Taste Good 6 Must-Read Gluten Free Cookbooks 8 Go-To Gluten-Free Snacks What a Grain-Free Kitchen Really Looks Like Carb Smart, Gluten-Free Almond Flour Pan Bread Recipe Makeover: Carb Smart, Gluten-Free Overnight French Toast Top 10 Paleo Recipes Paleo?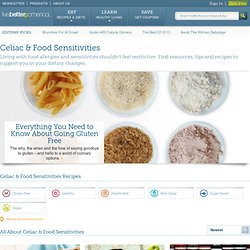 Gluten Free? Should You Try These Trendy Diets? Home of General Mills' Chex Cereals and the Original Chex Party Mix. The need for gluten free food: "Families are looking for wholesome, nutritious solutions that are gluten free and convenient but still taste great.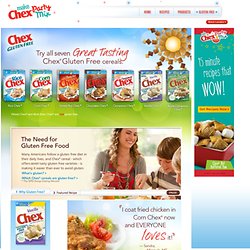 " says Keri Glassman, registered dietician and author. "Gluten free foods can fit into a busy lifestyle without making mealtime sacrifices. Chex® cereal is one of my top picks, and I recommend it as a good breakfast choice to many of my clients with gluten restrictions. " What's gluten? Gluten is a natural protein that is found in wheat, barley, rye and oats. Foods and ingredients made from these grains may also contain gluten.
---