Gluten Free
Gluten-Free Recipes
Free Multi-Grain Crackers
This is a light, pleasantly crisp cracker that is flaky and tender- and you won't believe it's gluten-free and vegan.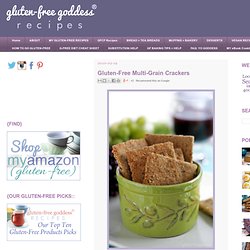 Our Gluten-Free On-Line Store | Gluten Freely
The need for gluten free food: "Families are looking for wholesome, nutritious solutions that are gluten free and convenient but still taste great." says Keri Glassman, registered dietician and author. "Gluten free foods can fit into a busy lifestyle without making mealtime sacrifices.
Home of General Mills' Chex Cereals and the Original Chex Party Mix