Clothing/Accessories
Ending Bum Crack One Pant At A Time « patchwork crafts, quilt patterns for beginners, tutorials, free patterns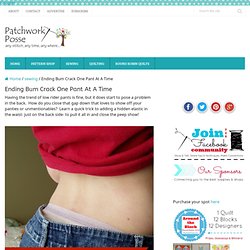 Having the trend of low rider pants is fine, but it does start to pose a problem in the back. How do you close that gap down that loves to show off your panties or unmentionables?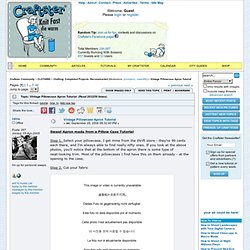 Vintage Pillowcase Apron Tutorial - CLOTHING
Sweet Apron made from a Pillow Case Tutorial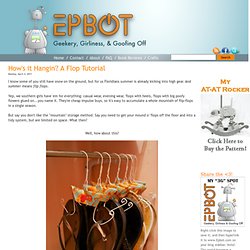 I know some of you still have snow on the ground, but for us Floridians summer is already kicking into high gear. And summer means flip flops. Yep, we southern girls have 'em for everything: casual wear, evening wear, 'flops with heels, 'flops with big poofy flowers glued on...you name it. They're cheap impulse buys, so it's easy to accumulate a whole mountain of flip-flops in a single season. But say you don't like the "mountain" storage method.
delia creates
Judah Method - Bleaching Experemnet on the Behance Network
SEW Hip! Slouchy Slippers (issue 20) have been made... The SEW Hip! pattern is advertised as a beginner's pattern, and I wholeheartedly agree. The Slouchy Slippers are incredibly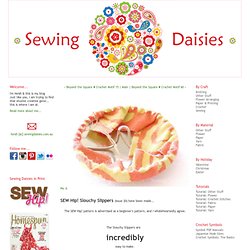 SEW Hip! Slouchy Slippers...completed! - Sewing Daisies
Painting a Kimono
Anthro Necklace Week Day 4! In case you have not visited this week – it is officially Anthropologie Necklace Week! 5 Days of Tutorials ending in 5 Lovely Giveaways!! If you need to catch up, here are Days 1, 2 a & 3. If you're not a follower – maybe you should do that so you don't forget to check in for Day 5. :) Pretty-In-Pinking Tutorial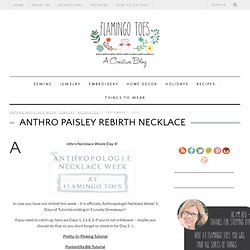 29 May 2010 These elegant fabric flowers are very simple to make . . . and only take a few basic supplies. The finished product is delightfully lovely, and at times can look like a real flower! Every flower will turn out differently and that is part of the beauty! If you haven't used those tea lights in a while, now's the time! I hope you enjoy making these as much as we do . . . below are instructions with pictures on how to make your own.