Baking/Deserts
Get flash to fully experience Pearltrees
I know what you may be thinking. It's a little out of the ordinary BUT if you give this a try, I think you just might be pleasantly surprised. Strawberries are everywhere right now and I'm always looking for ways to use them. We've already shared a trio of beverage ideas using strawberries: STRAWBERRY MARGARITA GRANITA , STRAWBERRY AGUA FRESCA , and a NUTELLA STRAWBERRY SMOOTHIE . When my friend mentioned to me that she had DEEP FRIED STRAWBERRIES for dessert while dining out the other night I knew immediately I HAD to make them and I'm so happy I did. I went with a more savory batter to compliment the sweet, sweet strawberries and was super pleased with the results.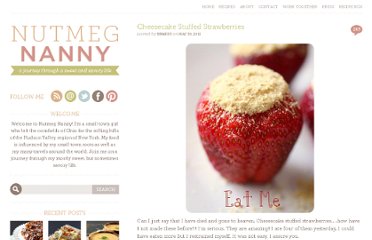 Cheesecake Stuffed Strawberries Can I just say that I have died and gone to heaven. Cheesecake stuffed strawberries….how have I not made these before?! I'm serious.
I LOVE LOVE LOVE when some of the most yummiest treats are also the most easiest to make. Ten years ago my friend Nancy gave each woman in our small group a beautifully packaged container of Puppy Chow aka Muddy Buddies. This was the first time I had ever had this "crazy good" treat. From the first bite I was hooked but also intrigued by what it was made of. When she told me how she made it I couldn't believe it because it was such an easy recipe yet the combination of all the ingredients produced such a wonderful taste.
In a word, semifreddo. On first blush, an odd sounding name for a dessert, but try it once and the word will forever after provoke blissful eye rolls. Semifreddo means "half-cold" in Italian, and tastes like the richest, smoothest icecream you could ever imagine. I've made some pretty tasty homemade icecream, but I'm never entirely happy with the texture. It's either too soft, well on it's way to melting when I scoop it into the bowls, or, if I try to firm it up in the freezer after it's done in the icecream maker, it can be rock hard. Semifreddo is the perfect texture, firm without being hard, and silky smooth as it melts in your mouth.
This is, by far, the best ice cream I've made. And it's among the easiest — just a couple of ingredients, very little effort, and the best, chocolate-y, most decadent result. If you're not familiar with nutella, check in the grocery store where you find the peanut butter — you'll probably find it. And when you do, take the jar, bring it home (pay for it first), spread a tablespoon or two on a piece of bread, and taste.
It's that time again! I know I can hardly contain myself. I think about this Challenge ALL month. I've had a million different ideas floating through my head trying to decide what to make. And, believe it or NOT, I didn't decide until late Wednesday night what to do!
What would you say if I told you that I don't really eat donuts for breakfast?
September 29, 2010 | Print | E-mail | Filed under apple , doughnut Hubby and I went apple picking with friends over the weekend, and we picked a TON of Honeycrisp, Cortland, and Empire apples – even after making a batch of apple maple butter , it looks like I barely made a dent in our bounty! We had a great time picking and going out for lunch, and then afterward, we all headed over to our friend's house so that the girls could bake and the guys could play video games – the perfect Saturday afternoon, in my opinion! So, bake we did. We made pie crust, apple pies, apple crisp, and then we decided to get a little adventurous and make these doughnut holes.
The other day my friend sent me a text and asked, "I want to try making doughnuts and want to make churros but they look difficult. Are they tricky to get right?!" I replied, "Nope!
As with most of us, each year I need to come up with some sort of treat or gift to give to friends, teachers and co-workers. This year I am beyond excited about what we've put together…Hot Chocolate on a Stick! They are adorable and the perfect cozy, winter treat! Because I loved the homemade marshmallows so much last December, I wanted to do something that incorporated them again somehow. Hot Chocolate on a Stick is such a fun idea and I get to use homemade marshmallows! Full confession – this is not my brilliant idea.
I never had a Pop-Tart until college.
I love cheese crackers. I try to put the blame on my children as the reason I buy them, but the simple truth is, I buy them for me and the kiddos get the benefit from it. Whether it's Cheese Nips, Cheez-It's, Better Cheddars or Goldfish, I like them all.