Public Domain Pictures
The Commons. The Commons. Creative Commons Search. Unprofound.com : royalty free photography project - a public dom. Photos du domaine public, Free images, Royalty Free Stock Photos. PD Photo - Free Photos And Pictures (public domain, stock pictur. Public Domain Images.
Copyright-Free Photo Archive: Public Domain Photos and Images. The photo archive at Gimp-Savvy.com has more than 27,000 free photos and images saved on our own dedicated server, consisting of over 2.5 Gbytes of data.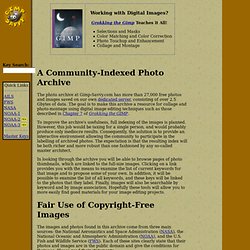 The goal is to make this archive a resource for collage and photo-montage using digital image editing techniques such as those described in Chapter 7 of Grokking the GIMP. To improve the archive's usefulness, full indexing of the images is planned. However, this job would be taxing for a single person, and would probably produce only mediocre results.
---