Geekeries
To The Inhabitants of SPACE IN GENERAL And H. C. IN PARTICULAR This Work is Dedicated By a Humble Native of Flatland In the Hope that Even as he was Initiated into the Mysteries Of THREE Dimensions Having been previously conversant With ONLY TWO So the Citizens of that Celestial Region May aspire yet higher and higher To the Secrets of FOUR FIVE OR EVEN SIX Dimensions Thereby contributing To the Enlargement of THE IMAGINATION And the possible Development Of that most rare and excellent Gift of MODESTY Among the Superior Races Of SOLID HUMANITY - Edwin A.
Miegakure: A puzzle-platforming game in four dimensions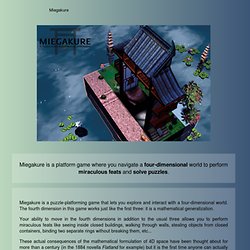 Un bug embarrassant mobilise les techniciens du labo J'éteins, je rallume mon ordinateur, je me repositionne sur la scène. Re-bam ! Re-message d'erreur à l'infini qui finit par occuper la totalité de mon écran.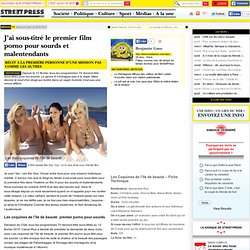 J'ai sous-titré le premier film porno pour sourds et malentendants | Lundi 06 Septembre 2010 sur StreetPress
tp://www.thewildernessdowntown.com/
Connecting the past to present tougher than it looks
Editor's note: This story is part of the iReport Weekend Assignment project, in which the CNN iReport community takes on a special-skills challenge once a week. Last weekend's challenge was to link the past with the present in a fun photo project.This weekend, we're challenging you to see how far $10 can go. Head to CNN iReport to join the fun and learn a little something while you're at it.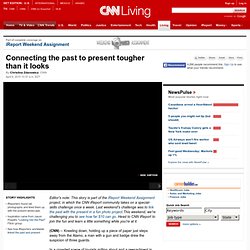 Accueil > sites et outils utiles, Uncategorized, web 2.0 > 29 tâches semi-productives à faire en ligne (traduction et adaptation) 29 tâches semi-productives à faire en ligne (traduction et adaptation) i Votre opinion Article original :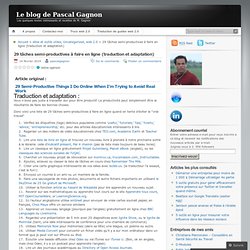 29 tâches semi-productives à faire en ligne (traduction et adapt