Bollywood
The Indian film industry has a huge fan base not only at home but also abroad, especially in countries which have a significant Indian population. The term Bollywood is a term coined for the Hindi-language film industry set in Bombay, India. Bollywood is often incorrectly referred to the whole of Indian Cinema. It is in fact just a part of the film industry. The introduction of Cinema in India began with the Lumiere Brothers' screening six silent short films at the Watson Hotel in Bombay. In 1910, Dadasaheb Phalke attended a screening of The Life of Christ at P.B.
History of Bollywood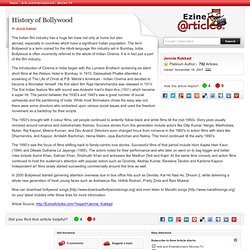 History of Bollywood - BOLLYWOOD
Brief history of Bollywood cinema - by Shaheen Darr
by Shaheen Darr Created on : September 24, 2008 Last Updated : March 12, 2011 In 1913, a soundless film called Raja Harishchandra with both Hindi and English subititles was produced in India by Dadasaheb Phalke. Being the first Indian director to produce soundless movies, he got his inspiration from the Lumiere Brothers who had introduced soundless movie clips to India in 1899. The industry soon took off and the 1920s saw the rise of several film directors trying their hand at making silent Indian movies. A Brief History of Bollywood - Associated Content - associatedcontent.com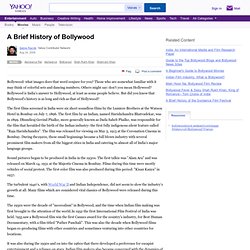 Bollywood: what images does that word conjure for you?
Friday Review Chennai / Cinema : Moving with the times
Friday Review Bangalore Chennai and Tamil Nadu Delhi Hyderabad Thiruvananthapuram Moving with the times For today's audience, a film should be as long as demanded by the script.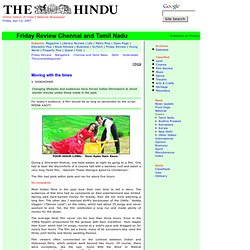 The New Crew
Bollywood is witnessing a fresh burst of energy, thanks to a crop of young actors and directors The only thing constant about life is change, or so the saying goes. Mumbai's film industry is no exception, with a new generation of directors and actors ushering in a change of guard and a fresh burst of creativity. Punit Malhotra, debutant director of I Hate Luv Storys, says this happens every decade. "Ten years back, Karan Johar, Aditya Chopra, Sanjay Leela Bhansali were some of the new directors and actors who redefined filmmaking.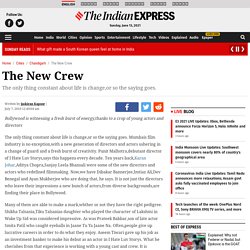 Bollywood.com : Entertainment news, movie, music and fashion rev
India's Premier Bollywood Portal - BollywoodWorld.com
Bollywood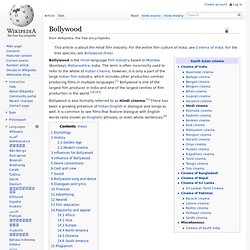 Bollywood is the informal term popularly used for the Hindi -language film industry based in Mumbai (formerly known as Bombay ), Maharashtra , India. The term is often incorrectly used to refer to the whole of Indian cinema ; however, it is only a part of the total Indian film industry, which includes other production centres producing films in multiple languages. [ 1 ] Bollywood is the largest film producer in India and one of the largest centres of film production in the world. [ 2 ] [ 3 ] [ 4 ] Bollywood is formally referred to as Hindi cinema . [ 5 ] There has been a growing presence of Indian English in dialogue and songs as well. It is common to see films that feature dialogue with English words (also known as Hinglish ), phrases, or even whole sentences. [ 6 ]
Bollywood
Dola Re Dola HQ Devdas 2002
Main Hoon Na - Gori Gori Gori [HD]
Kaahe Chhed Mohe song - Devdas
Satyajit Ray, film Le Salon de Musique - Kathak dancer scene
Satyajit Ray - Devi
Satyajit Ray's - Shatranj Ke Khilari - Part 1
Morning Raga 2004