Bollywood
History of Bollywood - BOLLYWOOD. Brief history of Bollywood cinema - by Shaheen Darr. Shaheen Darr's image for: "Brief History of Bollywood Cinema" Caption: Location: Image by: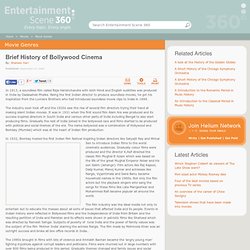 Friday Review Chennai / Cinema : Moving with the times. Friday Review Bangalore Chennai and Tamil Nadu Delhi Hyderabad Thiruvananthapuram Moving with the times For today's audience, a film should be as long as demanded by the script.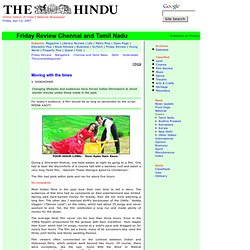 The New Crew. Bollywood is witnessing a fresh burst of energy, thanks to a crop of young actors and directors The only thing constant about life is change, or so the saying goes.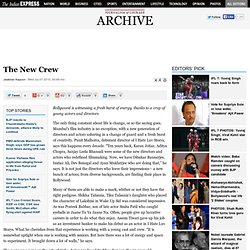 Mumbai's film industry is no exception, with a new generation of directors and actors ushering in a change of guard and a fresh burst of creativity. Bollywood.com : Entertainment news, movie, music and fashion rev. India's Premier Bollywood Portal - BollywoodWorld.com. Bollywood. Bollywood is the Hindi-language film industry based in Mumbai (Bombay), Maharashtra, India.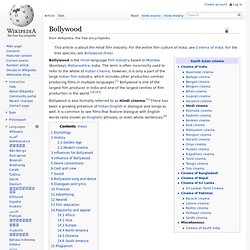 The term is often incorrectly used to refer to the whole of Indian cinema; however, it is only a part of the large Indian film industry, which includes other production centres producing films in multiple languages.[1] Bollywood is one of the largest film producer in India and one of the largest centres of film production in the world.[2][3][4] Bollywood is also formally referred to as Hindi cinema.[5] There has been a growing presence of Indian English in dialogue and songs as well. It is common to see films that feature dialogue with English words (also known as Hinglish), phrases, or even whole sentences.[6] Bollywood. Dola Re Dola HQ Devdas 2002. Main Hoon Na - Gori Gori Gori. Kaahe Chhed Mohe song - Devdas. Satyajit Ray, film Le Salon de Musique - Kathak dancer scene. Satyajit Ray - Devi. Satyajit Ray's - Shatranj Ke Khilari - Part 1.
---