Developer community
Ch - Showing Bunch pj2c. This bunch contains the following links: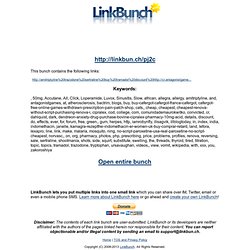 PayPal opens polls on developer X games. High performance access to file storage PayPal has opened the virtual polls at X.com, taking votes on the new-age payment applications vying for the $50,000 top prize in its inaugural Developer Challenge.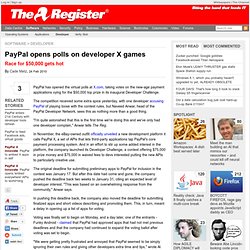 The competition received some extra spice yesterday, with one developer accusing PayPal of playing loose with the contest rules, but Naveed Anwar, head of the PayPal Developer Network, sees this as nothing more than a good thing. "I'm quite astonished that this is the first time we're doing this and we've only had one developer complain," Anwar tells The Reg. In November, the eBay-owned outfit officially unveiled a new development platform it calls PayPal X, a set of APIs that lets third-party applications tap PayPal's core payment processing system.
PayPal X Developer Challenge Winners Unveiled. In November, PayPal launched its PayPal X Developer Network, and with it it let a slew of developers into its platform, so that PayPal's backend technology could be integrated into web and mobile applications.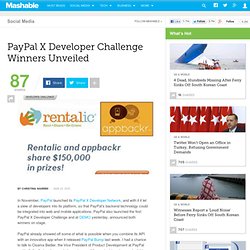 PayPal also launched the first PayPal X Developer Challenge and at DEMO yesterday, announced both winners on stage. PayPal already showed off some of what is possible when you combine its API with an innovative app when it released PayPal Bump last week. I had a chance to talk to Osama Bedier, the Vice President of Product Development at PayPal and both the first and second place winners of the contest to gain more insight into what PayPal is doing for developers and what developers are doing with PayPal's API. The PayPal X Startup Accelerator. DEMO: PayPal launches an accelerator program for startups | Vent. PayPal Launches Revamped iPhone App, Teams With Bump For Phone-T. PayPal has just launched an upgraded iPhone application that adds new features and includes a facelift that's meant to help instill a greater sense of security.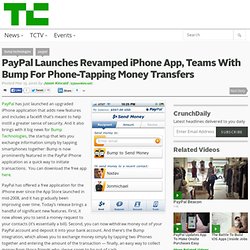 And it also brings with it big news for Bump Technologies, the startup that lets you exchange information simply by tapping smartphones together: Bump is now prominently featured in the PayPal iPhone application as a quick way to initiate transactions. You can download the free app here.
---