Programmation
Pure Data vs Android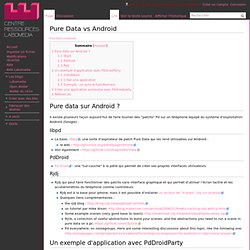 Il existe plusieurs façon aujourd'hui de faire tourner des "patchs" Pd sur un téléphone équipé du système d'exploitation Android (Google) : libpd PdDroid
Le site de programmation sur iPhone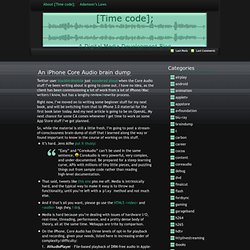 [Time code];
Twitter user blackbirdmobile just wondered aloud when the Core Audio stuff I've been writing about is going to come out.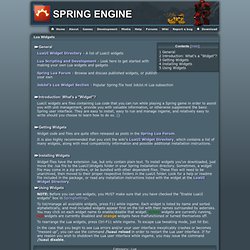 General
Lua Widgets - Spring
Objective C Trees In Pearltrees
Lua
Un article de Wikipédia, l'encyclopédie libre. Lua est un langage de script libre , réflexif et impératif . Créé en 1993 , il est conçu de manière à pouvoir être embarqué au sein d'autres applications afin d'étendre celles-ci, comme en témoigne la compacité de son interpréteur (95 à 185 ko pour la version 5.0.2, selon le compilateur utilisé et le système cible).