Taler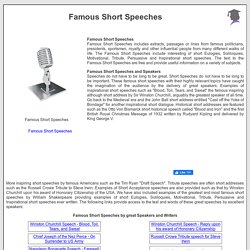 Famous Short Speeches and Speakers Famous Short Speeches includes extracts, passages or lines from famous speakers such as politicians, presidents, sportsmen, royalty and other influential people from many different walks of life. These Famous brief Speeches include interesting examples of short Eulogies, Soliloquies, Motivational, Persuasive, Tribute and Inspirational short speeches. The text to the Famous Short Speeches are free and provide useful information on a variety of subjects by famous speakers. Famous Short Speeches!
Famous Short Speeches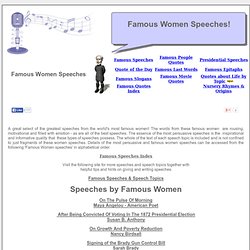 Speeches by Famous women
A great select of the greatest speeches from the world's most famous women! The words from these famous women are rousing, motivational and filled with emotion - as are all of the best speeches. The essence of the most persuasive speeches is the inspirational and informative quality that these types of speeches possess.
The Presidential speeches featured are in the form of extracts, passages or lines from famous inaugural speeches and quotes citing an illustration of, or allusion to, the famous events of the day. Use passages and lines taken as direct citations from the famous Presidential speeches and quotes using the language and words used by the celebrated President in their own language and dialect. All of these well-known Presidents are famous for their powers of verbal and oral communication all making excellent use of the words and language of their native tongue and delivery inspiring and persuasive Presidential speeches.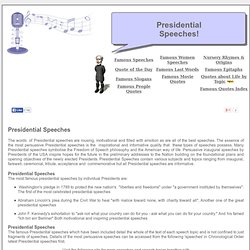 FAMOUS PRESIDENTIAL SPEECHES
Virksomme ord: Taler