Kunst/design
Sider som inspirerer til å lage ting
The North Elevation
Single Measures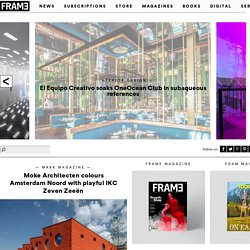 Home - Frameweb
Literally translated, the saying goes that the Fleming is 'born with a brick in his stomach'. It's become a cliché, but it expresses well the tendency of the Flemish to earn a diploma, settle down and build a house big enough for family life. Renovating an existing house is an option, too, but erecting a new home is better. Preferably a detached house that's as close as possible to where your parents live. In Mark #49, we ask ourselves; how long …
koloni stockholm - Welcome
The new issue of Adbusters has a hole in it; Atheneaum have the pix. List alert! And what a list… 101 music front covers, from 1937–2014, courtesy of Bob Newman. Follow-up already under way. Mary Berner, CEO and president of MPA, explains why 'magazines aren't screwed,' (though story URL implies otherwise).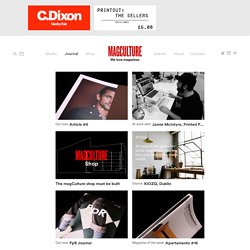 blog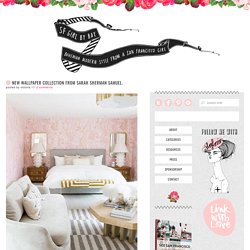 sfgirlbybay / bohemian modern style from a san francisco girl
real art for a fictitious world. Posted by the jealous curator //// 7 Comments well, let's hope that oprah is telling liz to hang all of the art that i choose!
emmas designblogg - design and style from a scandinavian perspective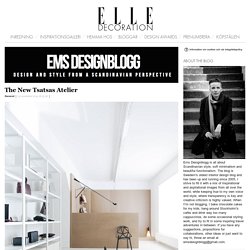 As you probably already know, photography is the new graphic print. In the last few years everyone has been adorning their walls with graphic art prints and quotes, but that trend has faded and given room to a more interesting art form; photography. However, finding original photos that speak to you, and aren't already on the walls of all other homes, is quite a challenge. That is why I am happy to be able to present The Print Atelier, an online gallery of contemporary photography, offering hundreds of images in different styles, from nature panoramas to abstract art.
My house is much like a person; in that it is filled with plenty of quirks and faults, but I am determined to love it regardless. That doesn't mean that I can't find ways to improve it however…and the simplest and most dramatic way that I've found to do that is with the magic of paint. After moving in last Spring, I started dreaming of two easy paint-related mini makeovers that I wanted to try. So when Valspar Paint got in touch and asked if I would like to use their paints on any upcoming home paint projects, I jumped at the opportunity. The two projects I decided to take on were: Project 1: Adding a pop of color to the inside of my kitchen cabinets…inspired by this lovely image from A Beautiful Mess (they used Valspar paint too).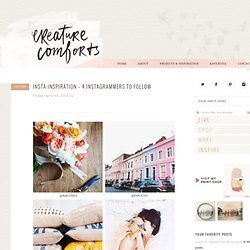 Home - Creature Comforts - daily inspiration, style, diy projects + freebies
decor8
If you're a mom-to-be like me, or a newish mom still shopping for baby gear, I hope this post is somewhat helpful to you! My blog friend, Lesley Myrick, who just had her baby boy a few days ago (congrats, Lesley!), asked me what my baby registry essentials are and shared a link to her blog where she documented all the stuff on her wish list for feeding, sleeping, baby care and travel. Inspired by her post, I thought I'd do the same. Just as Lesley disclosed on her blog, we too haven't yet tested these things (our son will arrive in about 10 days!)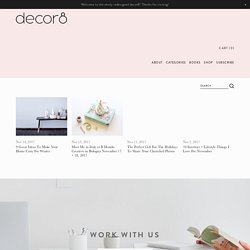 NOTCOT.ORG
Spring 2011 - Page 60-61
MoCo Loco - Modern contemporary design & architecture
Apartment Therapy | Saving the world, one room at a time
Kickstarter
OMG Vinyl... Because Records Sound Better
Sister Golden Air
Kunstforum
Pikene på Broen har ansatt Andreas Hoffmann som kunstnerisk leder i et ettårig vikariat. Fylkesgalleriet Punkt Ø i Østfold får 4,5 millioner kroner i gave fra Sparebankstiftelsen DNB. Fredag 17. januar åpnet A Kassen utstilling på Den Frie i København.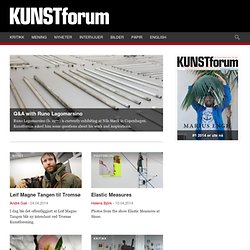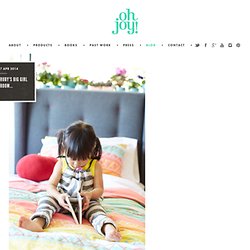 Oh Joy!
I'm excited to announce the launch of the Oh Joy for Nod kids' bedding and decor collection! Inspired by Ruby and her transition to a big girl room, the collection is a limited-edition bedding and home decor line for kids. It includes baby, toddler, and kids' bedding, pillows, lamps, plush toys, rugs, and a curated collection of art to go with it all. The Sundae Best collection is inspired by Ruby's favorite food—ice cream—and how fun it would be to sleep surrounded by your favorite treat. I wanted to create an abstracted version of ice cream with sprinkle sheets and a cone-inspired pattern on the duvet.
Life Without Buildings – Jimmy Stamp writes about architecture and [crime + criticism + fiction + pop culture + theory]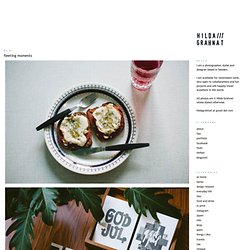 Planning, wishing, sorting, dreaming, thrifting. That's what I'm spending my days doing. In a month I am moving to Gothenburg! I cannot wait to finally have my own space again.
HILDA GRAHNAT
sbntwrk | cllctr - it´s easy. don´t make it hard.
Le voyage créatif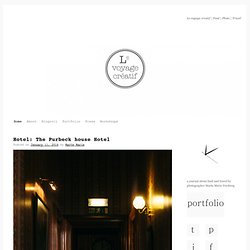 This July I met up with Annette Joseph in her amazing apartment in Italy for a little summer get-together with cooking, eating and dancing on the agenda. If you know Annette Joseph from before, then you know she knows how to throw a party and make it all look oh-so effortlessly, she is a food and lifestyle stylist after all with years of experience under the belt for magazines such as Better Homes and Gardens, and is an lifestyle and entertainment expert on the Today show. My lucky part was to be able to watch her work her magic up close and personal, enjoy heartfelt and fun conversation along the way, and play with my camera.
L'ESPRIT NOUVEAU
A marble from the same-titled municipality in south-eastern Norway; shifting in colour from gray to green and blue; and rich in fossils. Above Poul Kjærholms PK-61 with this wonderful stone as a top; a limited number of pieces were produced for E. Kold Christensen in the early seventies.
Bloesem
Freunde von Freunden
Timeless Modern Tactile Functional | COS
Blogs
Dos Family
Door Sixteen
babyramen
Brick House
The House That Lars Built.
ALVORADA
Bilder som inspirerer til å lage ting
TV-programmer og YouTube-snutter om kunst
My Modern Metropolis
MEDIUMPHOBIC
Illusion › The Most Amazing Creations in Art, Design, Photography, and Video
Popular favorite pictures on VisualizeUs
imgfave - amazing and inspiring images
The Video Militia
FFFFOUND!
Blog | Daily news about creative and cultural entreprenuership. Get inspired, find your passion and join a global network of creative and radical minds.
Monoscope | Deux
yay!everyday
Print Blog / The Colors Of Andy Gilmore by COLOURlovers
Solid frog
The Design Files | Australia's most popular design blog
finheter -
L O L I T A - Lolitas blog about fashion photography graphic design interior art lifestyle inspiration
BOMB Magazine: Home Page
swissmiss
Interiør- og designbutikker
Blogger med diverse inspirerende innhold
Interiør- og designblogger
INSTRUKSJONER for hvordan lage ting
Interiør- og designmagasiner
SIder for grafiske designere
Visualisering av data/informasjon