Agile
Description Organisez votre voyage depuis votre mobile : achetez votre billet, enregistrez-vous, restez informé en temps réel… où que vous soyez ! Planifiez votre voyageConsultez les horaires des vols et les temps de correspondance quelle que soit votre destination. Retrouvez également tous les contacts d'Air France, KLM et Flying Blue, partout dans le monde.
Air France Mobile pour iPhone, iPod touch et iPad sur l?iTunes App Store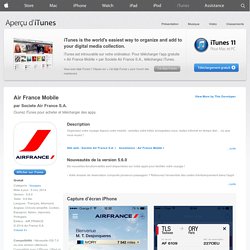 Agile Toulouse
Engraving on different objects in earlier days was a quite a laborious task. Engraving through hands and tools not only consumed a lot of time but also it depended very much on the individual efficiency of the engravers. Furthermore, it used to be quite difficult to engrave the intricate designs. But the usage of modern machines and computers has made the engraving task easier and faster. Also the intricate designs can be engraved with precision.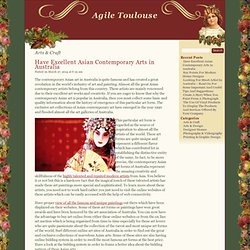 Cette formation se déroule à Toulouse les 5 et 6 septembre , je la co-animerai en compagnie de Claude Aubry. Les jeux agiles (jeux pour faire, jeux pour apprendre) constituent l'essentiel du contenu de cette formation destinée aux personnes qui paricipent à un projet agile en tant que testeur (validation), spécifieur ... En tant que - collaborateur du - Product Owner .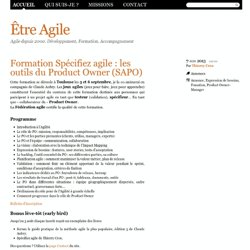 Formation Spécifiez agile : les outils du Product Owner (SAPO) - Être Agile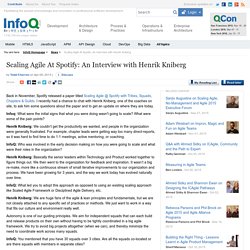 Scaling Agile At Spotify: An Interview with Henrik Kniberg
Back in November, Spotify released a paper titled Scaling Agile @ Spotify with Tribes, Squads, Chapters & Guilds . I recently had a chance to chat with Henrik Kniberg, one of the coaches on site, to ask him some questions about the paper and to get an update on where they are today. Infoq: What were the initial signs that what you were doing wasn't going to scale? What were some of the pain points?
[Scrum Day 2013] Culture Hacking
21 mai 2013 Le 11 avril dernier s'est déroulée l'édition 2013 du Scrum Day, événement organisé par le French Scrum User Group. Cette journée consacrée à l'agilité a commencée par une session plénière présentée par Robert Richman sur le thème du Culture Hacking ou pour résumer comment faciliter l'adoption de l'agilité à l'échelle d'une organisation, d'une entreprise, d'une entité. Robert Richmann, l'auteur du livre « The Culture Blueprint », a fondé le département Zappos Insights, de la société Zappos (société américaine, leader mondial de la chaussure) qui s'occupe d'aider les entreprises avec leur culture. Il se définit comme un culture hacker, et au travers d'un show à l'américaine, il nous en a présenté les principes.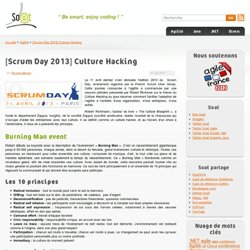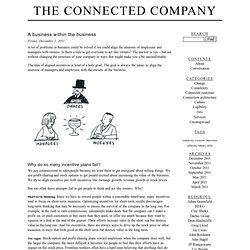 The Connected Company ›
The emerging service economy will require business and society to do some some fundamental restructuring. The organizations that got us to this point have been hyper-optimized into super-efficient production machines, capable of pushing out an abundance of material wealth. Unfortunately, there is no way to proceed without dismantling some of that precious infrastructure.
Mise un oeuvre d'un projet Mobile chez Cetelem en Scrum
954 vues Vous hésitez à développer vos applications mobiles avec Scrum ? Figurez-vous que même dans des contextes hautement complexes c'est possible ! Différentes entités, différents développements : ...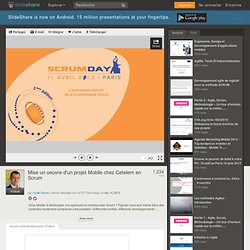 les joies du scrum - Quand un Agile Game tourne au drame !
patbourgeais : Trop fière de suivre cette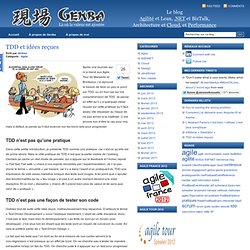 TDD et idées reçues : Genba
Après une tournée qui m'a mené aux Agile Tour de Marseille et Bordeaux, j'ai éprouvé le besoin de faire un peu le point sur TDD, ou en tout cas sur ma compréhension de TDD. Je pense en effet qu'il y a quelques idées reçues sur cette pratique qu'il faut assez vite dépasser au risque de ne pas arriver à la maîtriser C'est encore loin d'être le cas pour moi, mais à défaut, je pense qu'il faut avancer sur les bons rails pour progresser. TDD n'est pas qu'une pratique Dans cette petite introduction, je présente TDD comme une pratique, car c'est ce qu'elle est de prime abord.
Comme l'ont mentionné Laurent Blondon, ou Olivier Azeau, l'agile tour de toulouse, a été un grand succès, et effectivement les sessions ont été très riches en terme de sensibilisation, notamment les valeurs agiles, mais aussi sur des pratiques techniques… et il y avait beaucoup de monde (477 personnes, merci claude d'avoir compté ;)… record! Et encore une fois bravo à l'équipe organisatrice pour le travail fourni ! Quelle audience ? Logiquement et même si quelques personnes venaient du métier, beaucoup des 477 personnes venaient du milieu IT (Services informatiques des sociétés utilisatrices, consultants, SSII…) ça tombe bien puisque l'agilité traite essentiellement du développement logiciel…
La Communauté agile s'adresse t'elle a ses « Customers  ?
Les présentation Agile 2012
Your Path through Agile Fluency
Agile methods are solidly in the mainstream, but that popularity hasn't been without its problems. Organizational leaders are complaining that they're not getting the benefits from Agile they expected. This article presents a model of Agile fluency that will help you achieve Agile's benefits. Fluency evolves through four distinct stages, each with its own benefits, costs of adoption, and key metrics. For over twelve years, we've been leading and helping teams transition to Agile. The industry has changed a lot in that time.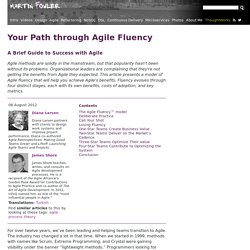 Language: English Bahasa Indonesia Bahasa Melayu Dansk
laurentmeurisse : roadshow Agile AirFrance:
Minimum Releasable Feature | It's a Delivery Thing
There are a variety of terms in use for chunks of functionality that are worth releasing and the requirements that describe them. Desirable characteristics for these features include being minimum, releasable, and valuable. At the moment I am using the phrase Minimum Releasable Feature (MRF) so I thought I'd explain why and some of the alternatives. Epic Following the lead of the XP guys the Agile community has adopted the term Epic for a large, often ill-defined, user story.
VALTECH-Livre-Blanc-Agile-v2-2011
Rapid agile testing with Bonfire for JIRA
Agenda des Agilistes - informations sur un évènement
L'agenda des évènements autour de l'Agilité en France (et pas trop loin) Date et lieu Le mercredi 29 juin 2011, de 19h00 à 21h00. À Lille, Nord-Pas-de-Calais
This is a guest post by Brian Henerey, from Sony Computer Entertainment Europe. Background I've had 3 roles at Sony since joining in August 2008. Nearly a year ago I took over the management of the original engineering team I joined. This was a failing team by any definition, but I was excited about the opportunity to reshape it.
Building a Devops team -
Gérer son backlog avec Greenhopper, [vidéo] « noVa geNeration
Agenda des Agilistes - accueil
Ekito, soutient l'Agile Tour 2010 !
Lean, Scrum, Scrum of Scrums and Epic Boards! | Agile Epic Board
Scaling Scrum With Epics
Scrum_vs_Kanban_v2.pdf (Objet application/pdf)
Laurent Morisseau
Un coach agile doit-il exposer ou préserver l'équipe? | Agile Ga