You suck at PowerPoint
How to TEDx [Presentation Design Tips] - EP. Visual.ly - Create, Share, Explore Great Visualizations. The Beyond Bullet Points story template - Templates. Description This template, adapted from Beyond Bullet Points: Using Microsoft PowerPoint to Create Presentations That Inform, Motivate, and Inspire by Cliff Atkinson, incorporates fundamentals of classic story structure and the screenwriting process.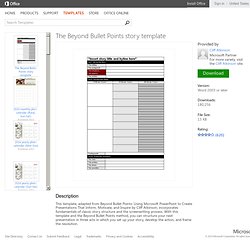 With this template and the Beyond Bullet Points method, you can structure your next presentation in three acts in which you set up your story, develop the action, and frame the resolution. Presentation Design & Training. You Suck At PowerPoint! Death by PowerPoint. Flickr.
---