Audio Resources
Listen | StoryCorps | Page 2. Randall's ESL Cyber Listening Lab - For English as a Second Language. Listen, learn and teach English with podcasts in English for upper intermediate learners and teachers. There are more vocabulary activities related to these podcasts on the 'extras' page. 105 That sinking feeling What could be worse than the Earth opening up and swallowing you?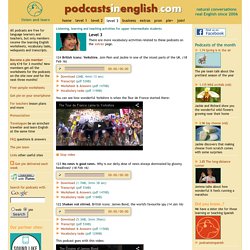 (6 Mar 14) Learning English - 6 Minute English. Podcasts et Vodcasts en classe d'anglais. À notre tour de vous proposer une sélection de sites anglophones contenant des documents audio et vidéo soit à télécharger, soit à écouter ou à regarder en ligne, soit en abonnement.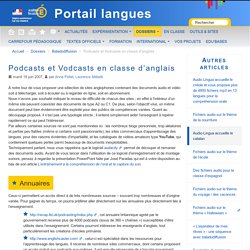 Nous n'avons pas souhaité indiquer le niveau de difficulté de chacun des sites ; en effet à l'intérieur d'un même site peuvent coexister des documents de type A2 ou C1. De plus, selon l'objectif visé, un même document peut bien évidemment être exploité pour des publics de compétences variées. Quant au découpage proposé, il n'est pas une typologie stricte ; il entend simplement aider l'enseignant à repérer rapidement ce qui peut l'intéresser. Newsbeat - Have your say.
Dictations
Phonology. Audiobooks, storytelling. Docs CO (BAC) Audio recordings. Podcasts. Sound banks.
---