Social
Facebook Timeline: The Next Step Is Coming Soon. Last night I went in search of an answer to a question that has vexed this industry for weeks: When will Facebook Timeline officially launch to the masses?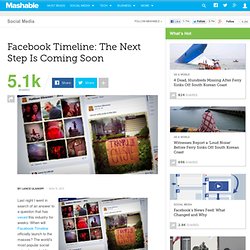 The world's most popular social network was holding a tiny gathering in downtown NYC, where I'd get to rub elbows with Timeline's architects. I went, figuring one of them had to know the truth. The small club atop a trendy hotel in lower Manhattan was crowded and dark. It offered amazing vistas of the city skyline and doted around the periphery of the room were stations where designers would talk about how they came up with some of the ideas in Timeline.
Do something, Learn something, Share something, Change something - Meetup. Home. Elliot H Roberts (elliothroberts) All Topics - The Latest News Headlines, Videos and Images.
---