Craft
DIY Bow tie necklace. Bleach Painting on Textiles D.I.Y. Today Jill of Lune is going to share the next part of our textile printing series, how to paint with bleach.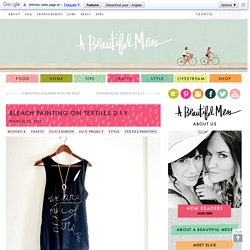 I love the simplicity of her design and can't wait to try this. Enjoy! TREAD BELT. ReFabulous... it's new again.: Make your own paperback wallet! I wanted to share my tutorial for making wallets out of old paperback books (or any paper media, really.)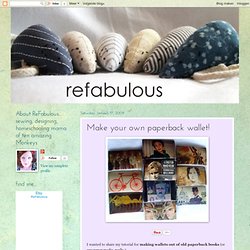 This basic wallet was not my idea... the original link does not work (but here it is anyway.) The original design was flawed, and the wallets ripped the first time you opened them. I changed the design, and made them much, much stronger. My own wallet is over 1 1/2 years in use now, and still going strong.
Galaxy shirt. Une bague de dentelle. L'été, quand il fait vraiment chaud, c'est assez difficile pour moi de supporter trop de bijoux.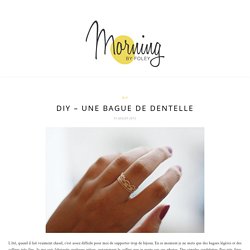 En ce moment je ne mets que des bagues légères et des colliers très fins. Je me suis fabriquée quelques pièces, notamment le collier que je porte sur ces photos. Des simples cordelettes fluo très fines glissées dans une perle métallique en forme de tube (que j'ai acheté dans cette boutique Etsy), c'est tout simple et parfait pour les grosses chaleurs ! Pour la bague, pareil, j'ai eu envie de me fabriquer une bague si lègre que je la sens à peine. Voici les instructions pour la faire à votre tour : Most gawked all-time. I Could Do That. Longstitch Bookbinding Tutorial for a Leather Journal | tortagialla. The most common type of sewn bookbinding that I often default to, falls into the category of longstitch binding.
It's really a general categorization for many different methods of sewn binding. People have invented their own patterns and techniques and have probably called it something else as well. Suffice to say, it's a general way to denote sewing your paper to the cover of your book. I'm sure you've noticed journals out there with exposed sewing in the binding in a variety of patterns and designs. KNOW AND TELL CRAFTS: DIY LIGHT BOX! I have been working on my photography and to all the other bloggers out there, I want to help!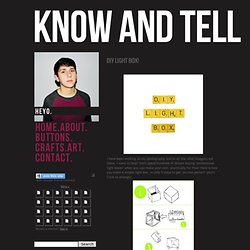 Don't spend hundreds of dollars buying "professional light boxes" when you can make your own practically for free! Here is how you make a simple light box, in only 5 steps to get "picture perfect" pics! ( Click to enlarge) Paint Moss Graffiti - Step-by-Step Guides for Offbeat DIY Projects.
Better than Tiffanys. Have some spare time?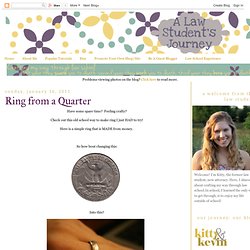 Feeling crafty? Check out this old school way to make ring I just HAD to try!
---