Reading
Google Books. Choose from millions of books on Google Play including new releases, New York Times® bestsellers, textbooks and free classics.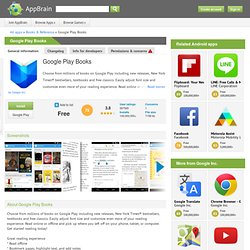 Easily adjust font size and customize even more of your reading experience. Read online or offline and pick up where you left off on your phone, tablet, or computer. 100,000 Free Books Wattpad for Android. ★ ★ ★ ★ ★ Wattpad - Read over 20 million FREE ebooks & stories Join millions who love Wattpad - the world's ever growing library of downloadable books and stories.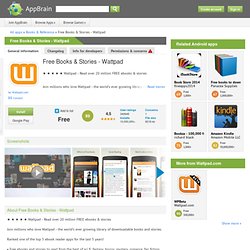 Ranked one of the top 5 ebook reader apps for the last 3 years! • Free ebooks and stories to read from the best of sci fi, fantasy, horror, mystery, romance, fan fiction, teen, thrillers, classics, poetry and so much more! Urban Dictionary for Android. IKEA Catalogue for Android. The digital IKEA catalog 2014 – for Android!
Just like the printed IKEA catalog, the 2014 digital IKEA catalog is packed with inspiration, home furnishing knowledge and ideas for free. This year, there's a special focus on ideas for creating a better everyday life for families with children. IVONA Amy UK English beta. IVONA - The leader in realistic, natural-sounding & accurate TTS voices for your Android device.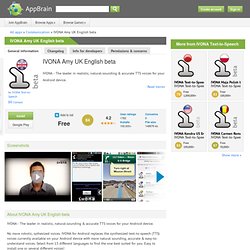 No more robotic, sythesized voices. IVONA for Android replaces the synthesized text-to-speech (TTS) voices currently available on your Android device with more natural sounding, accurate & easy-to-understand voices. Select from 13 different languages to find the one best suited for you. Easy to install one or several different voices! IVONA is compatible with many of your favorite Android applications. Kobo eBooks. With Kobo, you can read on your Android smartphone or tablet anywhere, anytime.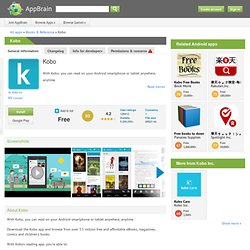 Download the Kobo app and browse from over 3.5 million free and affordable eBooks, magazines, comics and children's books. With Kobo's reading app, you're able to: • Pick up right where you left off. We'll sync your bookmarks, notes, and highlights, so you can keep reading across all your devices.
---