Life Management
Barcode Scanner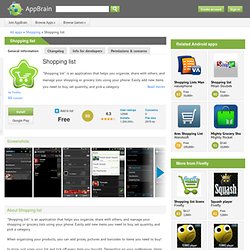 Shopping list
"Shopping list" is an application that helps you organize, share with others, and manage your shopping or grocery lists using your phone. Easily add new items you need to buy, set quantity, and pick a category. When organizing your products, you can add prices, pictures and barcodes to items you need to buy! In store, just open your list and tick off every item you bought.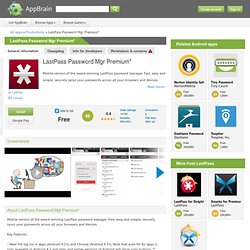 LastPass Password Mgr Premium*
Mobile version of the award-winning LastPass password manager. Fast, easy and simple; securely syncs your passwords across all your browsers and devices. Key Features:
Protect your Android phone or tablet with award winning antivirus, privacy and security software from McAfee. Get comprehensive Android security with a simple, powerful service: antivirus, anti-theft, safe mobile surfing, app protection and call and SMS filter. This free trial protects you and your device for 7 days.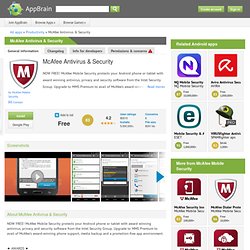 McAfee Mobile Security (Trial)
Medibank Mobile
The Medibank Mobile App is a convenient way to manage your health cover. Here you can find a Members' Choice provider, claim for selected extras, access your extras claims history, update your contact details, view your policy information and more. Who can use the Medibank Mobile App?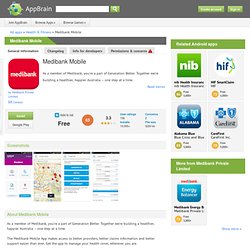 Antivirus Free for Android
Free, top-rated, real-time antivirus and anti-theft protection for Smartphones & Tablets. AVG AntiVirus FREE for Android™ protects you from harmful viruses, malware, spyware and text messages and helps keep your personal data safe. Download Free Now! ♦♦ Or take advantage of our limited time Easter special offer - 30% on our full-featured premium app: http://bit.ly/avgSP2013Easter NOW for just $10.49! ♦♦ Over 15,000,000 people currently use AVG's AntiVirus mobile security apps.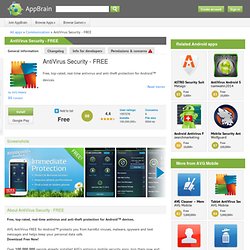 MyCareer.com.au for Android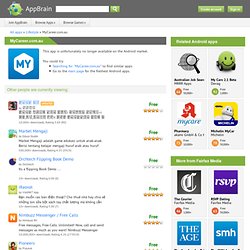 MyCareer.com.au's free Android app allows you to find jobs wherever you might be. So you can now put your next move in the palm of your hand. What can the app do for you? • Search and review thousands of jobs on MyCareer.com.au • Save your CV to MyCareer.com.au and apply for jobs straight from your Android handset • Plus, our app helps you manage your job search process by allowing you to: • Sort and shortlist jobs you are interested in • Add personal notes and comments to jobs • Email potential jobs straight to your inbox • Sync the app with your MyCareer account Feedback and suggestions To provide feedback and/or suggestions on the MyCareer.com.au Android app, please email promotions@mycareer.com.au