Bread
Crusty Bread. I must begin by saying where the recipe originated, if in fact it originated anywhere...really.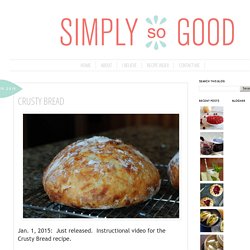 I think bread has been baked for centuries using flour, salt, water, and yeast or other form of leavening. As far as I know the recipe for "No-Knead" bread dough was printed in the New York times. I don't know what month, day, or year. Flour Tortillas (as made by Mike!) Since Mike and I have been together, I have been the cook.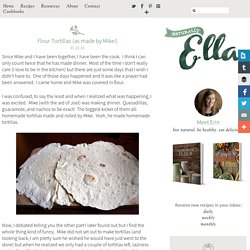 I think I can only count twice that he has made dinner. Most of the time I don't really care (I love to be in the kitchen) but there are just some days that I wish I didn't have to. One of those days happened and it was like a prayer had been answered. The Merlin Menu: Dutch Oven Bread. I have for years made homemade bread.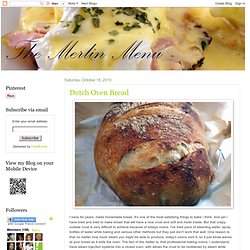 It's one of the most satisfying things to bake I think. And yet I have tried and tried to make bread that will have a nice crust and soft and moist inside. But that crispy outside crust is very difficult to achieve because of todays ovens. Artisan Bread in Five Minutes a Day. And I'm not even kidding!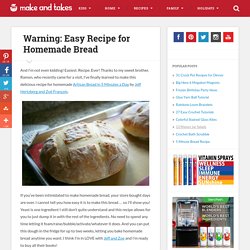 Easiest. Recipe. Rustic Country Bread - Baked in a Dutch oven. I was thinking about one of the main objectives of TFL (encourage, support and assist new bakers) and with that in mind I decided to attempt a "tried and true" recipe that would perhaps be appealing to bakers just getting into artisan baking.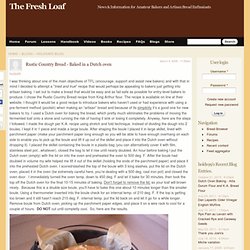 I set out to make a bread that would be easy and as fail-safe as possible for entry-level bakers to produce. I chose the Rustic Country Bread recipe from King Arthur flour. The recipe is available on line at their website. I thought it would be a good recipe to introduce bakers who haven't used or had experience with using a pre-ferment method (poolish) when making an "artisan" bread and because of its simplicity it's a good one for new bakers to try. I used a Dutch oven for baking the bread, which pretty much eliminates the problems of moving the fermented loaf onto a stone and running the risk of having it sink or losing it completely.
---