Technology Resources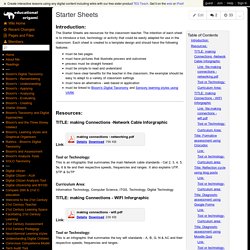 The Starter Sheets are resources for the classroom teacher. The intention of each sheet is to introduce a tool, technology or activity that could be easily adapted for use in the classroom. Each sheet is created to a template design and should have the following features:must be two pagesmust have pictures that illustrate process and outcomesprocess must be straight forwardmust be simple to read and understandmust have clear benefits for the teacher in the classroom, the exemplar should be easy to adapt to a variety of classroom settingsmust have an alternative - web based or applicationmust be linked to Bloom's Digital Taxonomy and Sensory learning styles using VARK Title: Formative assessment using Crocodoc Link:
Starter Sheets
Digital Roadtrip • Unique method for accessing student work on iPads?
iPad Resources Open all links in new window More Sharing Services Top Apps Review Science Apps Review Top Science Apps Review iPad Apps for High Schools iPad Apps for High Schools - 2 Bloom'in iPad Apps Tony Vincent's iPad Resources App Safari Apple Apps Recommendations iPads in the Classroom Tips for iPad Essential Tips for iPad Complete list of tips, tricks and resources Podcasts Resources iPad apps for FCS An iPad in Every Classroom iPads in Education Apps for Special Needs (by Moms) Special Education Apps Appitic - An App for Everything Education Bridging Apps (Bridgingapps) Created with MultiURL
iPad Resources - MultiURL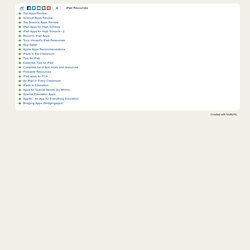 5 Ways Twitter Strengthens A School's Learning Community
Cross-posted at eFACE Today This year, our K-6 staff began learning in a new virtual way using Twitter. After a couple staff in-service trainings and after school workshops, parents and teachers ventured into this new educational Twitterverse.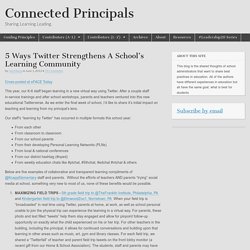 100 Web 2.0 Tools Every Teacher Should Know About 44.24K Views 0 Likes We're always trying to figure out the best tools for teachers, trends in the education technology industry, and generally doing our darnedest to bring you new and exciting ways to enhance the classroom. But I wanted t... 20 Free and Fun Ways To Curate Web Content 23.98K Views 0 Likes
MIT Understanding Lasers and Fiberoptics full course by MIT Lasers are essential to an incredibly large number of applications. Today, they are used in bar code readers, compact discs, medicine, communications, sensors, materials processing, computer printers, data processing, 3D-imaging, spectroscopy, navigation, non-destructive testing, chemical processing, color copiers, laser "shows", and in the military.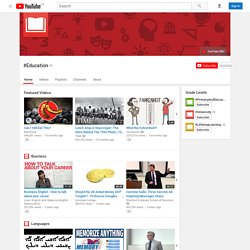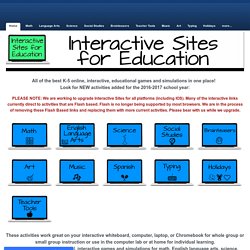 All of the best K-5 online, interactive, educational games and simulations in one place! Look for NEW activities added for the 2013-2014 school year! These activities work great with your SMARTboard or interactive whiteboard for whole group or small group instruction or use in the computer lab or at home for individual learning. Choose from fun, educational, interactive games and simulations for math, english language arts, science, social studies, brainteasers, music, art, holidays and more! Copyright Karen Ogen 2011-2013.