Museums
Art Through Time: A Global View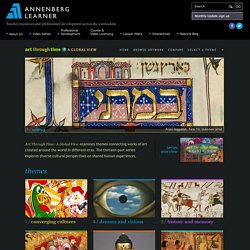 7 / Domestic Life Blocks, Strips, Strings, and Half-Squares Quilt, Mary Lee Bendolph, Gee's Bend Quilter's Collective <!
Fellowship for Native American Fine Art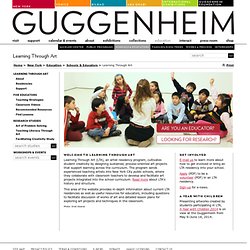 Learning Through Art (LTA), an artist residency program, cultivates student creativity by designing sustained, process-oriented art projects that support learning across the curriculum. The program sends experienced teaching artists into New York City public schools, where they collaborate with classroom teachers to develop and facilitate art projects integrated into the school curriculum. Read more about LTA's history and structure. This area of the website provides in-depth information about current LTA residencies as well as useful resources for educators, including questions to facilitate discussion of works of art and detailed lesson plans for exploring art projects and techniques in the classroom. Photo: Enid Alvarez
Learning Through Art
Welcome to the Yellowstone Art Museum
Games for Kids - Queensland Art Gallery | Gallery of Modern Art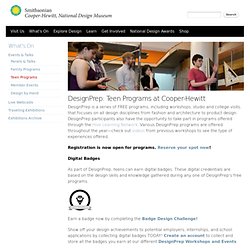 DesignPrep is a series of FREE programs, including workshops, studio and college visits, that focuses on all design disciplines from fashion and architecture to product design. DesignPrep participants also have the opportunity to take part in programs offered through the Hive Learning Network. Various DesignPrep programs are offered throughout the year—check out videos from previous workshops to see the type of experiences offered. Registration is now open for programs. Reserve your spot now! Digital Badges
Education
Museum of American Art: Education
Welcome to the lesson plans and project ideas section of the Art-Rageous website! Latest updates are listed on the home page of the site, and if you're looking for something in particular, try entering a word in the onsite search engine. Purchases made by clicking through advertisers' links help to offset my webhosting costs and allow me to purchase new resource materials for my classes.
Art and Lesson Plans
ArtsConnectEd
RSS Feeds ArtsConnectEd provides a range of dynamically updated feeds you can subscribe to through your web browser or news reader. Learn more ArtsConnectEd is Cooliris enabled, allowing you to use a "3D Wall" to browse the entire image collection with ease and speed.Download the Cooliris plug in for your browser ArtsConnectEd is Open Search enabled, allowing you to add ArtsConnectEd to your browser's search engine options (Firefox and Internet Explorer) - simply pull down the search list while on the site and add "ArtsConnectEd Collection Search".
Interactives | Projects | 2001 | What is a Print?
For Educators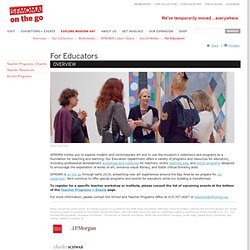 SFMOMA invites you to explore modern and contemporary art and to use the museum's collections and programs as a foundation for teaching and learning. Our Education Department offers a variety of programs and resources for educators, including professional development workshops and institutes for teachers, online teaching aids, and school programs designed to encourage the exploration of works of art, enhance visual literacy, and foster critical-thinking skills. SFMOMA is on the go through early 2016, presenting new art experiences around the Bay Area as we prepare for our expansion. We'll continue to offer special programs and events for educators while our building is transformed. To register for a specific teacher workshop or institute, please consult the list of upcoming events at the bottom of the Teacher Programs + Events page.
smARTkids
Exploratorium: the museum of science, art and human perception
Haring Kids | Welcome
www.artsmia.org
Salvador Dali | at VirtualDali.com