Decor
Is everyone ready for today's Pinterest challenge? I know I'm excited to share my project and can't wait to see what everybody else came up with. Pinterest in general just makes me tinkle in my pants with joy! So let's get to it! Lately I have been obssessed with games like Words With Friends, Wordosaur, Scrabble and any other word games that make me use my noggin. If you ever want to play with me you can come over.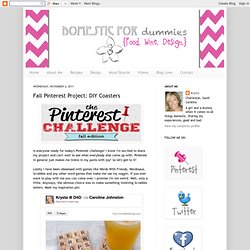 Interior Decorating - How-To Help and Videos
Using Curtains and Draperies in Your Home Decor Curtains and draperies are chameleons. They work hard at blocking light and sound, heat and cold.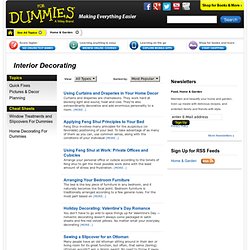 The rules of interior decorating can be as solid as a rock or as open to interpretation as the sky. But many experts agree that learning the rules can be the first step toward freely breaking those rules when necessary. Here are some of the decorating dos. >> Do sketch your floorplan and record the room dimensions, window sizes and placement, and the location of special features, electrical outlets, and so on.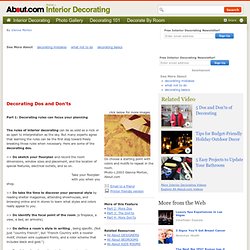 Decorating Dos and Don'ts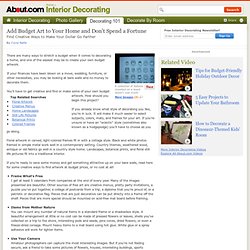 Budget Art- Add Budget Art to Your Home and Don't Spend a Fortune
There are many ways to stretch a budget when it comes to decorating a home, and one of the easiest may be to create your own budget artwork. If your finances have been blown on a move, wedding, furniture, or other necessities, you may be looking at bare walls and no money to decorate them. You'll have to get creative and find or make some of your own budget artwork. How should you begin this project? If you already know what style of decorating you like, you're in luck. It will make it much easier to select subjects, colors, mats, and frames for your art.
Thrifty Decor Mom
Discount Designer Fabric - Fabric.com
the fabric of my life
This really wasn't my idea. I have some smart sisters. They looked at the piles of laundry in my tiny laundry room, and said, Ana, what if . . . All your laundry baskets could be like drawers in a dresser . . . And we didn't have to see your dirty - and clean - laundry every time we visit. In my defense, most of the piles of laundry in my home are clean.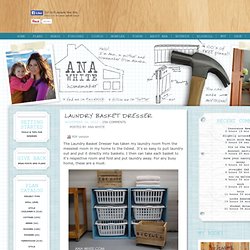 Sources For Cheap Home Decor | Home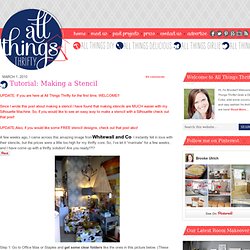 UPDATE: If you are here at All Things Thrifty for the first time, WELCOME!! Since I wrote this post about making a stencil I have found that making stencils are MUCH easier with my Silhouette Machine. So, if you would like to see an easy way to make a stencil with a Silhouette check out that post! UPDATE:Also, if you would like some FREE stencil designs , check out that post also!
How I Furnished My Entire Home for $716.97
A few years ago, I moved to another state carrying only what I could fit in my car: a few boxes of clothes, a stack of books, and a coffee mug. Since moving is expensive – even when you don't actually move anything – I had to find a way to furnish my entire house without draining what was left of my meager savings. I started shopping furniture websites and realized I'd have to spend $4,473.73 to get just the basics. That wasn't happening, so I took an alternate path through garage sales, flea markets, and clearance racks – and I saved a ton of money.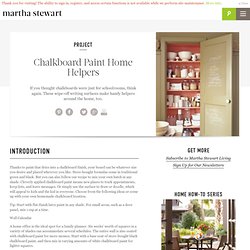 If you thought chalkboards were just for schoolrooms, think again. These wipe-off writing surfaces make handy helpers around the home, too. If you thought chalkboards were just for schoolrooms, think again. These wipe-off writing surfaces make handy helpers around the home, too. Thanks to paint that dries into a chalkboard finish, your board can be whatever size you desire and placed wherever you like. Store-bought formulas come in traditional green and black.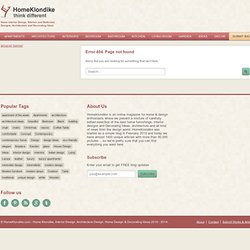 Coastal hallway Create a coastal feel with tongue-and-groove panelling, wicker storage baskets and crisp white walls. Flowers in a country-style jug keep the scheme fresh. More Images Inside Post Colourful stairs Bored of your hallway?