cosméto
Get flash to fully experience Pearltrees
My weekend of celebrating with the folks was excellent. And sure enough, my mom (known to many of you as Grandma G) embarked on a DIY deodorant project. She came across someone selling homemade deodorant nearly a year ago, tried it out, and found that it actually kept stinkiness away better than store brands. Plus most popular brands of deodorant contain aluminum, so if you can avoid stuffing metal into your pores, that seems like a good idea. After using a few types of natural deodorants and figuring out which ingredients she prefers, Mum decided to make her own. Here's the recipe we arrived at this weekend.
Uhhh , do you know what next Sunday is? Yeah, that's right, it's Mother's Day! Just in case you need a gift idea that you can rock out fast I thought I'd post a super fun and easy project that you could whip up in no time... Bath Salts!
Today we feature a post on the ways of making Bees Wax Lip Balm brought to us by Erin of Imagination Kids Toys Erin is: I'm Erin, mama to two little kids. I'm a woman of many hats- mother, teacher, toy maker, author, gardener, & crafter, among many other things. Our family lives in Indiana, where we try to make the most of life, which means things can be a bit chaotic at times.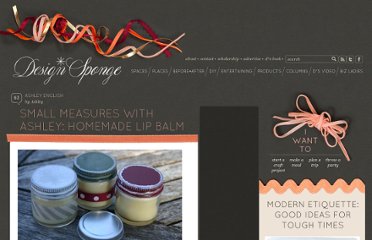 Brrr!!! I don't know where you are, but here in the mountains of western North Carolina, it's cold. Seriously cold. Dangerously cold.
Dans la brassée d'émotions contradictoires et de tracas divers et variés du moment, il y a aussi des îlots de joie toute pure comme la naissance de ce petit Louis-là. Pas de tricot comme je l'avais bien sûr imaginé (et sa maman peut-être un peu aussi..) mais des petites choses douces quand même (et la petite grenouillère à rayures PB trop craquante). Balle en tissu (lin, coton à pois bio et liberty) avec grelot caché, petit oiseau en bois poli little sappling toys à mâchouiller et cosmétiques maison pour se faire chouchouter. Petites recettes pour faire pareil: Mousse de bain à l'abricot (pour un flacon mousseur AZ de 200ml)
Une crème toute simple pour les débutantes qui veulent avoir un teint bronzé en hiver et qui n'ont pas toute une panoplie d'ingrédients sous la main ! Le matériel pour la recette : - 1 balance de précision - 2 bols cosmétiques (en métal de préférence) - 2 casseroles - 1 fouet - 1 thermomètre - 1 entonnoir - 1 contenant pour cosmétique de 50 mL La recette pour 50 mL de crème : - Hydrolat de menthe poivrée ->30 g - Cire émulsifiante n°2 -> 4 g - Huile de tournesol bio ->13,8 g - DHA naturelle -> 4 g - Extrait de pépin de pamplemousse -> 10 gouttes Explicatif : Pesez vos ingrédients.
To make your own deodorant, gather up: Corn starch Baking soda Coconut oil Essential oils (opt. - adds smellpretty!) Vitamin E (opt. adds ooohskinsoft!) An empty container to be filled with your new deodorant Some great essential oils for deodorant also act as antimicrobials (since bacteria is what causes the smell, using something to wipe them out is even better!) While the oils of bay, cinnamon, clove and thyme are the most inhibitory, they can also lead to major sensitivity in the pit-ular area.
Les huiles essentielles ne sont pas des produits anodins. Elles doivent être choisies et dosées avec le plus grand soin. On les appelle huiles mais ce ne sont pas de corps gras. Elles sont constituées de molécules odorantes volatiles produites par différentes parties des plantes (feuilles, fleurs, racines, fruits, ...). Choisir une bonne huile essentielle demande d'en savoir un peu plus le terroir et sur la qualité de la production . Soumises aux aléas des conditions climatiques, de la culture ou la cueillette, les huiles essentielles dépendent de la qualité du terroir, du travail du récoltant et du distillateur .