Carnets
How to bind papers without staples or clips [2] Lately my new found alternative to hold 2 or 3 sheets, usually printed articles or clippings of all sorts, is to dab a little glue or paste double-sided tape at the corner of each page.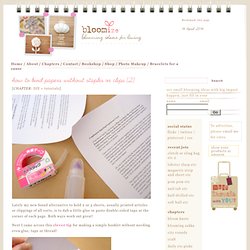 Both ways work out great! Next I came across this clever tip for making a simple booklet without needing even glue, tape or thread! The method consists of 2 parts. Cereal Box Notepad – Crafting a Green World. In our household, cereal is a staple for breakfast, and let's face it: lunch and dinner, too.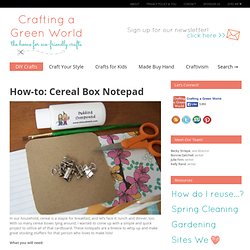 With so many cereal boxes lying around, I wanted to come up with a simple and quick project to utilize all of that cardboard. These notepads are a breeze to whip up and make great stocking stuffers for that person who loves to make lists! What you will need: Cereal box50 sheets or so of recycled paper (old computer paper, scribble sheets, etc.)ScissorsPiece of decorative paper from your stashMod PodgePadding CompoundPaint brushBinder clips Next >> A stitched notebook. I first learned of Kelly through Nicole of Garden Mama, when she established The Wellness Tree.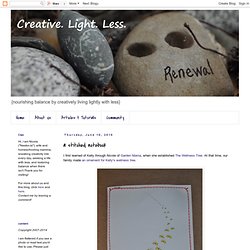 At that time, our family made an ornament for Kelly's wellness tree. I was extremely sad to read Nicole's announcement that Kelly had lost her battle with cancer.I never knew Kelly or her family, but cancer has touched the lives of many people close to me, of all ages. How to make a staple-free matchbook notepad. In an effort to use up the damaged & small surplus of 2010 calendars I have on-hand, I've been experimenting with ways to repurpose them.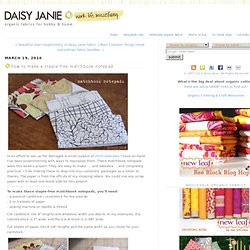 These matchbook notepads were this week's project. They are easy to make .... and adorable ... and completely practical. I'll be making these to drop into my customers' packages as a token of thanks. The paper is from the offcuts of my shipping labels. You could use any scrap paper with at least one blank side for this project.- - - - - - - - - - - - - - - - - - - -To make these staple-free matchbook notepads, you'll need:- a piece of cardstock / coverstock for the outside- 2 or 3 sheets of paper- sewing machine or needle & thread.
Make Your Own Moleskine-Like-Notebook. What we'll make: Your very own Moleskine-like-notebook/journal/sketchbook.
The one we'll be making is 3.5 x 5.5 x .5 inches. I use this size because it fits nicely into my back or front pants pocket. Strangely enough it is also the same size as the Moleskine notebook. Piratecore: How to make a Soft Cover Wrap Around Notebook. How it was done: 1.Cut the 25 sheets of paper to 5 x 8 inches.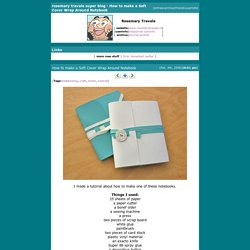 Put them into 5 stacks, with 5 sheets in each stack. 2.Using the bone folder, fold each of the stacks in half. 3.Using the sewing machine on the widest stitch setting, sew down the center of the crease on each of the five plies. 4.This is what each of the piles will look like. 5.Fold the pages in half again and pile them up neatly, with the sewn side facing out. 6.Using a press, or something to keep the pile of sewn papers together, put an old board on either side of the pile and insert it all into the press. 7.You can see here the paper clamped inside of the press with the two pieces of scrap board on either side. 8.With a brush, spread a generous amount of glue across the paper. Notebook. Here's another DIY project from our sweet friend, Sasha - from the The Gilded Bee.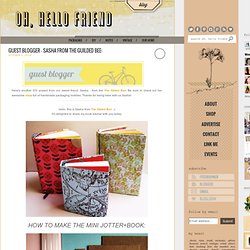 Be sure to check out her awesome shop full of handmade packaging lovelies. Thanks for being here with us Sasha! I'm delighted to share my book tutorial with you today: Supplies you'll need to make this project:
---