Vulnerabilidad
Great Transition Initiative-Mozilla Firefox
Tellus Institute - For a Great Transition-Mozilla Firefox
Stockholm Environment Institute-Mozilla Firefox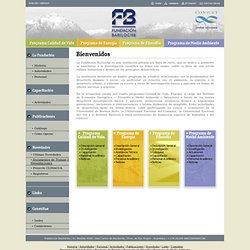 Fundación Bariloche - desde 1963-Mozilla Firefox
La Fundación Bariloche es una institución privada sin fines de lucro, que se dedica a promover la enseñanza y la investigación científica en todas sus ramas, sobre la base de una sólida cultura humanista y dentro de los principios democráticos. La institución desarrolla un amplio programa de estudios relacionados con la problemática del desarrollo humano y social, en particular en relación con el ambiente, la energía y el desarrollo urbano, y extiende su acción a áreas de investigación básica y aplicada en temas de interés nacional y regional. En la actualidad cuenta con cuatro programas:Calidad de Vida, Energía -a cargo del Instituto de Economía Energética -, Filosofía y Medio Ambiente y Desarrollo a través de los cuales desarrolla investigación básica y aplicada, proporciona asistencia técnica a organismos provinciales, nacionales e internacionales y brinda formación de posgrado.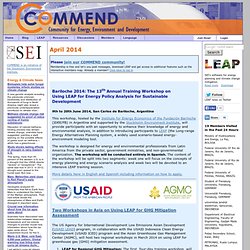 COMMEND: Community for Energy, Environment and Development-Mozilla Firefox
Bariloche 2014: The 13th Annual Training Workshop on Using LEAP for Energy Policy Analysis for Sustainable Development 9th to 20th June 2014, San Carlos de Bariloche, Argentina This workshop, hosted by the Institute for Energy Economics of the Fundación Bariloche (IDEE/FB) in Argentina and supported by the Stockholm Environment Institute, will provide participants with an opportunity to enhance their knowledge of energy and environmental analysis, in addition to introducing participants to LEAP (the Long-range Energy Alternatives Planning system, a widely used scenario-based energy-environment modeling tool.
Publications - Stockholm Environment Institute-Mozilla Firefox
La gran transición: La promesa y la atracción del futuro-Mozilla Firefox
La transición global ha comenzado: una sociedad planetaria se irá configurando durante las próximas décadas. Pero su desenlace es incierto. Las tendencias actuales determinan la dirección al comenzar el viaje, pero no su destino. Según cómo se resuelvan los conflictos sociales y del medio ambiente, el desarrollo global puede bifurcarse en caminos dramáticamente diferentes. Por el lado obscuro, es muy fácil imaginar un futuro funesto de pueblos, culturas y naturaleza empobrecidos.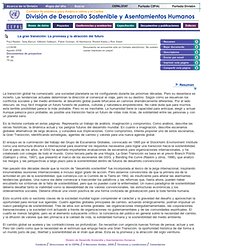 OARE | Online Access to Research in the Environment-Mozilla Firefox
Civil Society > Home-Mozilla Firefox