Social Media
In Defense of Pinterest | Wired Design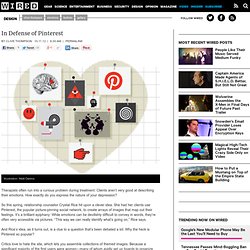 Illustration: Matt Owens Therapists often run into a curious problem during treatment: Clients aren't very good at describing their emotions. How exactly do you express the nature of your depression? So this spring, relationship counselor Crystal Rice hit upon a clever idea.
Social media find place in classroom - USATODAY.com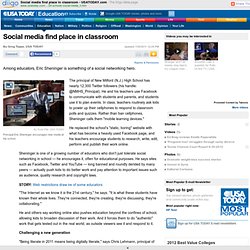 Crystal Jones "Among educators, Eric Sheninger is something of a social networking hero. By Todd Plitt, USA TODAY Principal Eric Sheninger encourages new media at his school. Enlarge Close
Users of social networks have been found to have an average of 121 friends online, as opposed to 55 in real life. Photograph: Leon Neal/AFP After clocking up more than a few acquaintances online, it might come as a particular blow for keen social networkers like Barack Obama, or even Facebook founder Mark Zuckerberg himself. But it seems – whisper it – that there really is something in that lingering suspicion that most users of social networking sites have more friends in cyberspace than reality.
m.guardian.co.uk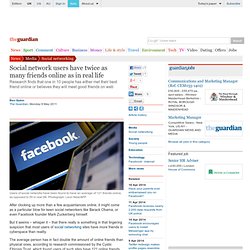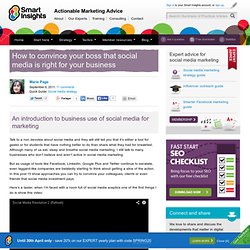 How to convince your boss that social media is right for your business
Talk to a non devotee about social media and they will still tell you that it's either a tool for geeks or for students that have nothing better to do than share what they had for breakfast. Although many of us eat, sleep and breathe social media marketing, I still talk to many businesses who don't believe and aren't active in social media marketing. But as usage of tools like Facebook, LinkedIn, Google Plus and Twitter continue to escalate, even laggard-like companies are belatedly starting to think about getting a slice of the action. In this post I'll show approaches you can try to convince your colleagues, clients or even friends that social media investment pays. Here's a taster, when I'm faced with a room full of social media sceptics one of the first things I do is show this video: [Editor's note: thanks to @CIMSolent who shared the latest version -see below - really shows the human side of social media nicely - I've included the original since the style is different]
social-media-facts.png 580×9,613 pixels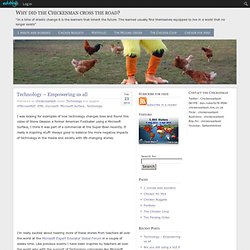 Feb 23 2014 Technology – Empowering us all I was looking for examples of how technology changes lives and found this video of Steve Gleason a former American Footballer using a Microsoft Surface, I think it was part of a commercial at the Super Bowl recently. It really is inspiring stuff! Always good to balance the more negative impacts of technology in the media and society with life changing stories. I'm really excited about hearing more of these stories from teachers all over the world at the Microsoft Expert Educator Global Forum in a couple of weeks time.
"In a time of drastic change it is the learners that inherit the future. The learned usually find themselves equipped to live in a world that no longer exists"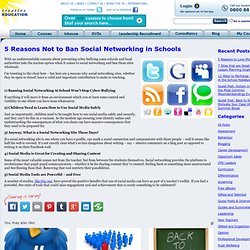 5 Reasons Not to Ban Social Networking in Schools
With an understandable concern about preventing cyber-bullying some schools and local authorities take the nuclear option when it comes to social networking and ban those sites wholesale. I'm tweeting to the choir here – but here are 5 reasons why social networking sites, whether they be open or closed, have a valid and important contribution to make to teaching. 1) Banning Social Networking At School Won't Stop Cyber-Bullying If anything it will move it from an environment which you at least some control and visibility to one where you have none whatsoever. 2) Children Need to Learn How to Use Social Media Safely