Fonts/textures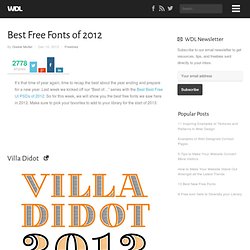 It's that time of year again, time to recap the best about the year ending and prepare for a new year. Last week we kicked off our "Best of…" series with the Best Best Free UI PSDs of 2012. So for this week, we will show you the best free fonts we saw here in 2012. Make sure to pick your favorites to add to your library for the start of 2013. Villa Didot
Today we have collected 25 random fancy fonts to spice up your designs. Some of them are script, some are funky and some are groovy. It is a mix collection of every kind for fonts.
25 Fancy Fonts to Spice Up Your Design
Finding awesome free fonts for logo designing is not that easy.
I find myself constantly reaching for wood and metal Photoshop patterns these days. Whether I'm trying to add a little texture to a website button element or grunging up a photo, I always seem to have a need. So, I pulled together some freebies to keep available when I need them and decided to share them with fellow DesignFestival fans.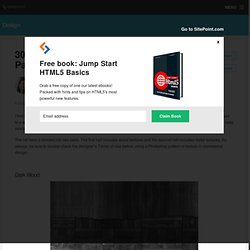 Free Photoshop Patterns and Textures of Wood and Metal
65 Beautiful Fonts You Can Download For Free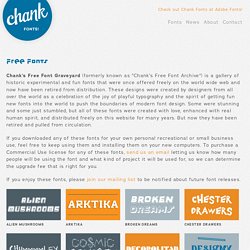 Chank's Free Font Archive is a world-class collection of fun original free fonts by different designers from all over the world. These fonts are all exclusive to Chank.com and should not be redistributed under any circumstances. They are free for you to use for your own personal, recreational uses, but you must purchase a license if you wish to use them commercially. To purchase a Commercial Use license for any of these fonts, send us an email letting us know how many people will be using the font and what kind of project it will be used for, so we can determine the upgrade fee that is right for you.
One of the most important aspects of a good vintage style design is the use of authentic looking textures.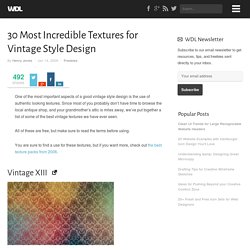 Using the correct typeface for your design project is absolutely crucial in conveying the message and feel of the overall design, it is necessary to keep an awesome collection of both paid and free fonts in your font collection to allow you to have the font resources at hand to test drive a design with varying fonts. I have taken three of my favorite font foundries and showcased 29 of the most beautiful fonts from their collections, the quality of these fonts is pretty amazing, some are more suited to print work and others for use on the web as they support the @font-face property. Take a look and add them to your collection. Lost Type Co-op Lost Type Co-op is an indispensable one of a kind type foundry, founded by Riley Cran and Tyler Galpin.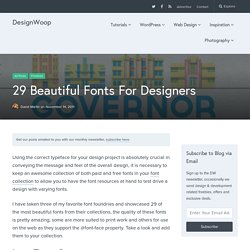 With only a month and a half left in 2011, it's hard to believe another year is drawing to a close. If you're a long time reader of WDL, you probably know that at the end of each year we publish a series of posts that highlight our favorite freebies and resources from that year. It's an excellent way to show you what you might have missed, and to give the designers and creators some well deserved recognition. To kick it off, here are the best free fonts of 2011. There were tons of great free fonts released this year, so it was a difficult task choosing our favorites. Weston