Cooking
Summer Treat: Vanilla Milk with Chocolate Ice Cubes | Apartment Therapy The Kitchn. Red Velvet Crêpes. I rolled my eyes at the red velvet cake trend, but now I can't get enough.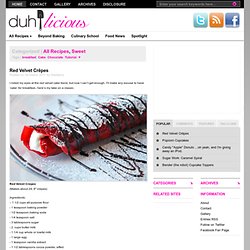 I'll make any excuse to have 'cake' for breakfast– here's my take on a classic. Red Velvet Crepes (Makes about 24, 8″ crepes) Ingredients: – 1 1/2 cups all-purpose flour - 1 teaspoon baking powder - 1/2 teaspoon baking soda - 1/4 teaspoon salt - 3 tablespoons sugar - 2 cups butter milk - 1 1/4 cup whole or lowfat milk - 1 large egg - 1 teaspoon vanilla extract - 1 1/2 tablespoons cocoa powder, sifted - 1 tablespoon red food color gel - 2 tablespoons unsalted butter, melted + 2 tablespoons cooking oil (for pan) *Update: Because the buttermilk lends to the acidity of this batter, do not substitute the baking soda for extra baking powder. How to build a raised bed for your garden. Most favorited all-time - page 3.
Tiny Tarts: How to make Pie in a Jar. I love giving thoughtful homemade gifts to friends and family.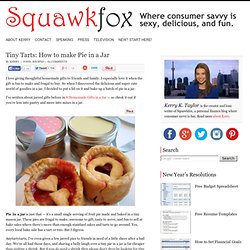 I especially love it when the gift is fun to make and frugal to buy. So when I discovered the delicious and super cute world of goodies in a jar, I decided to put a lid on it and bake up a batch of pie in a jar. I've written about jarred gifts before in 8 Homemade Gifts in a Jar — so check it out if you're less into pastry and more into mixes in a jar. Pie in a jar is just that — it's a small single serving of fruit pie made and baked in a tiny mason jar. These pies are frugal to make, awesome to gift, tasty to serve, and fun to sell at bake sales where there's more than enough standard cakes and tarts to go around.
---