Hair
100 Amazing Hairstyles. We women adore fashion and style.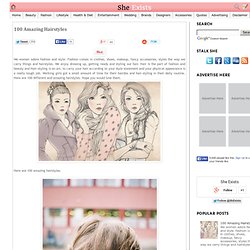 Fashion comes in clothes, shoes, makeup, fancy accessories, styles the way we carry things and hairstyles. We enjoy dressing up, getting ready and styling our hair. Hair is the part of fashion and beauty and Hair-styling is an art, to carry your hair according to your style statement and your physical appearance is a really tough job. Working girls got a small amount of time for their hairdos and hair-styling in their daily routine.
How-To: Instant Hairstyles- Do Yourself. PIN IT UP, GIRL. Photo: justin coit for thebeautydepartment.com post designed by kristin ess Our email box is literally flooded with requests for updos so here's a fun one to get us all going!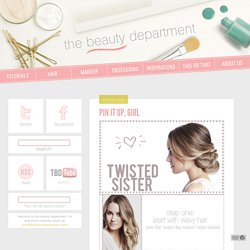 This is always a favorite for attending an event. This updo looks gorgeous on any hair color but particularly amazing with hilighted hair because it gives the hair lots of depth and dimension. How To Style Maiden Braids. Last month I did a makeover story with Kelsie and had many requests for a maiden braid tutorial.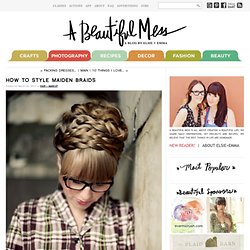 Yesterday she came in and we photographed these simple step by steps. Kelsie has extremely long and thick hair, but anyone with shoulder length or longer can do these braids (see my photo below for an example). Steps 1-2: Braid two strands on each side of a center part. Steps 3-5: Wrap braids around the crown of your head and pin in place with one pin each. Step 6: Arrange braids so that they cover the front of your head like a headband. GUEST POST.
Photos by: Kathleen Bly post designed by kristin ess Mad love for our first guest post winner, Taylor Nick!!!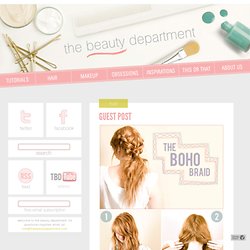 I am fully obsessed with this bohemian-inspired-braided-goodness! Even though Taylor had some SERIOUS competition, there's no doubt that this little lady took the cake in our hair tutorial contest. She created a beautiful, textured, easy hairstyle that will work with almost any hair type. Get Out of My Hair. How to curl your hair with a sock! No heat - StumbleUpon. How To Put Your Hair Up In A Cute Bun | Guide « Wonder How To. Comb your hair carefully to eliminate any tangles or knots.Take some hair from the top of your head. 3.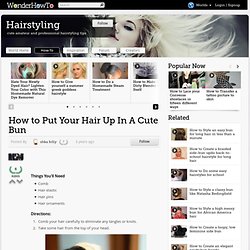 Tie off this hair with a hair elastic. 4. Triple Max Tons: EASY HOLIDAY HAIR. Side Chignon 1.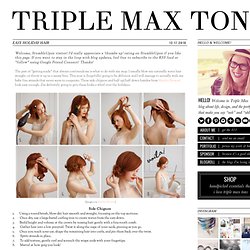 Using a round brush, blow-dry hair smooth and straight, focusing on the top sections. 2. Once dry, use a large-barrel curling iron to create waves from the ears down. 3.
---