Things that Make Me Go LOL!
You will not be expecting what happens at the end
Famous and Infamous Exam Questions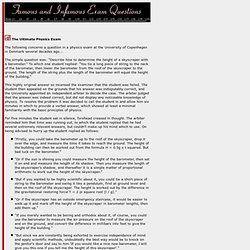 The Ultimate Physics Exam The following concerns a question in a physics exam at the University of Copenhagen in Denmark several decades ago... The simple question was: "Describe how to determine the height of a skyscraper with a barometer."
Animal Feud [PIC]
"Diary of a Charmander" by Brad Einstein on CollegeHumor
How To Make A Used Thrift Store Painting MOAR AWESOME
32228_1475750781345_1460986219_1238.jpg (JPEG Image, 604x453 pixels)
Choices
2010-02-24-determinism.png (PNG Image, 588x819 pixels) - Scaled (98%)
CRAYOLA-ARIZONA.jpg (JPEG Image, 450x575 pixels)