Things that Make Me Go LOL!
You will not be expecting what happens at the end
HAHAHA yep.. wasn't expecting that. by ptpaterson Aug 26
Famous and Infamous Exam Questions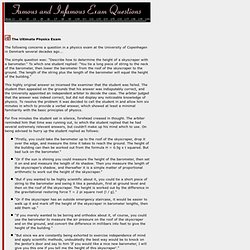 The Ultimate Physics Exam The following concerns a question in a physics exam at the University of Copenhagen in Denmark several decades ago... The simple question was: "Describe how to determine the height of a skyscraper with a barometer." To which one student replied: "You tie a long piece of string to the neck of the barometer, then lower the barometer from the roof of the skyscraper to the ground. The length of the string plus the length of the barometer will equal the height of the building." This highly original answer so incensed the examiner that the student was failed.
Dancing Gorilla! - Pirouette from heaven - on BoreMe
Animal Feud [PIC]
"Diary of a Charmander" by Brad Einstein on CollegeHumor
How To Make A Used Thrift Store Painting MOAR AWESOME
32228_1475750781345_1460986219_1238.jpg (JPEG Image, 604x453 pixels)
What a Great Roomate Favorite Tags Submitted by: jlinkous
Choices