Misc Languages for Later
Yiddish Dictionary Online ייִדיש װערטערבוך אַפֿן װעב. Popular Hawaiian Words & Phrases. Popular Hawaiian Words and Phrases!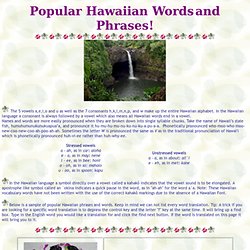 The 5 vowels a,e,i,o and u as well as the 7 consonants h,k,l,m,n,p, and w make up the entire Hawaiian alphabet. In the Hawaiian language a consonant is always followed by a vowel which also means all Hawaiian words end in a vowel. Names and words are more easily pronounced when they are broken down into single syllable chunks. Take the name of. Textkit - Greek and Latin Learning Tools.
Learn Sanskrit through self study.
---