Art and Music
The Mutopia Project. Tree Shapers. Welcome To The Essential Guitar Guide. Incredibly Realistic Sculptures by Adam Beane. Adam Beane is quite unique sculptor.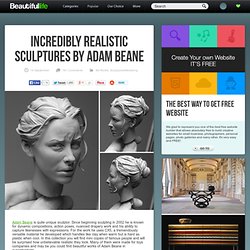 Since beginning sculpting in 2002 he is known for dynamic compositions, action poses, nuanced drapery work and his ability to capture likenesses with expressions. For the work he uses CX5, a tremendously versatile material he developed which handles like clay when warm but is hard as plastic when cool. In this collection you will find mini copies of famous people and will be surprised how unbelievable realistic they look. Many of them were made for toys companies and may be you could find beautiful works of Adam Beane in supermarkets. Simon Pegg and Nick Frost. Amazing San Francisco sculpture made of toothpicks. Rolling through the bay is an abstract toothpick sculpture of San Francisco.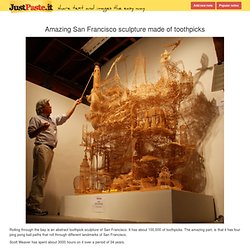 It has about 100,000 of toothpicks. The amazing part, is that it has four ping pong ball paths that roll through different landmarks of San Francisco. Scott Weaver has spent about 3000 hours on it over a period of 34 years. Here are the individual components of this toothpick sculpture. Bay Bridge. The Deadliest Art in the World. Photograph by Luke Jerram Luke Jerram makes the deadliest art in the world.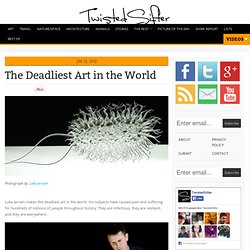 His subjects have caused pain and suffering for hundreds of millions of people throughout history. They are infectious, they are resilient, and they are everywhere. Why You SHOULD Play With Your Food.
---