Feminst Blogs
The Abortioneers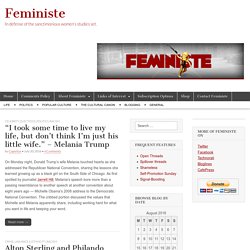 Grover on Marriage Love knows no color or texture, and marriage is when two people get married. In this clip from a 1983 episode of "Sesame Street," Grover and a little boy named Jesse define the concept of marriage. I'm not going to give away the ending, but their definition involves kissing, hugging, being friends, helping each other, and being between a mommy and a daddy.
Congresswoman Gwen Moore, a Democrat from Wisconsin, told reporters that the watered down House Republican version of the Violence Against Women Act was insulting to her as a woman of color, and as a rape victim. The House's version of the bill stripped away provisions from the Senate version of the bill that would have extended protection to Native American, undocumented, and LGBT women who were victims of violence. Moore's the first black legislator elected from the state of Wisconsin, and only the second woman elected to represent the state in Congress.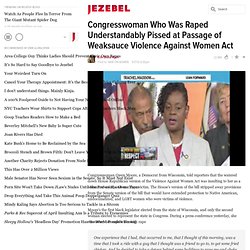 Congresswoman Who Was Raped Understandably Pissed at Passage of Weaksauce Violence Against Women Act
Alabama has launched a crusade to prosecute mothers on behalf of their drug-addicted newborns. At first glance, it seems like an honorable endeavor, protecting children from unfit parents, but it's much more insidious than that. The law that enables these arrests and charges assumes that a fetus is a person, entitled to rights and legal protection.
A Fetus Is Not a Person, But a Pregnant Woman Sure as Hell Is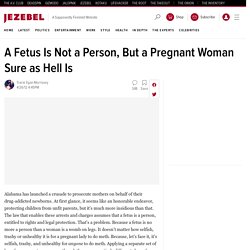 Yesterday, two female state representatives in Michigan were banned indefinitely from speaking on the floor of the State House because they refused to fall in line during a debate about abortion. The Republican who banned Reps. Lisa Brown and Barb Byrum said some nonsense about "decorum," and another GOP-er took offense at her use of "no means no."
25 Republican-Approved Ways to Say 'Vagina' Without Offending Political Pussies