RDF
Silk Workbench | Silk Link Discovery Framework Space. Silk Workbench is a web application which guides the user through the process of creating a link specification for interlinking two data sources.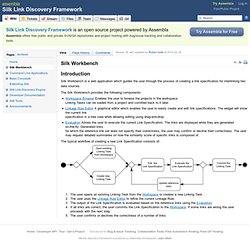 The Silk Workbench provides the following components: Workspace Browser Enables the user to browse the projects in the workspace. Linking Tasks can be loaded from a project and comitted back to it later.Linkage Rule Editor A graphical editor which enables the user to easily create and edit link specifications. Dbpedia Properties. Rdf_datasource. RDF & co... Thinking XML: Basic XML and RDF techniques for knowledge management, Part 1. Although Resource Description Framework (RDF) was designed by the W3C as a general metadata modeling facility, it offers many features that make it an ideal companion to XML data.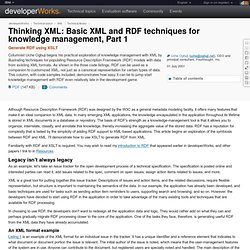 In many emerging XML applications, the knowledge encapsulated in the application throughout its lifetime is stored in XML documents in a database or repository. The basis of RDF's strength as a knowledge-management tool is that it allows you to organize, interrelate, classify, and annotate this knowledge, thereby increasing the aggregate value of the stored data. XML, RDF e OWL (Para saber um pouco mais sobre a Web Semântica 1) Tim Berners-Lee fez toda a proposição da arquitetura da web semântica baseada em XML.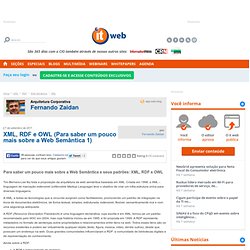 Criada em 1998, a XML – linguagem de marcação extensível (eXtensible Markup Language) teve o objetivo de criar um infra-estrutura única para diversas linguagens. A XML, e todas as tecnologias que a circunda surgiram como facilitadores, promovendo um padrão de integração na troca de documentos eletrônicos, de forma textual, simples, estruturada, extensível, flexível, semanticamente rica e com uma segurança adequada. A RDF (Resource Description Framework) é uma linguagem declarativa, cuja escrita é em XML, tornou-se um padrão recomendado pelo W3C em 2004, mas cuja história iniciou-se em 1995, e foi proposta em 1999.
---