Home
The principle is simple and seductively clever: solar lights that store energy during the day and release light at night. These can be purchased ready-made in a variety of colors (yellow, blue and red) but they can also be built at home . A simple, less-technical approach involves buying a conventional solar-powered yard lamp and then essentially harvesting it for key pieces to put in a jar.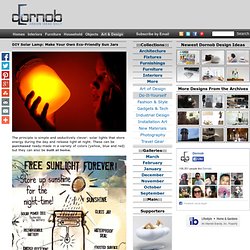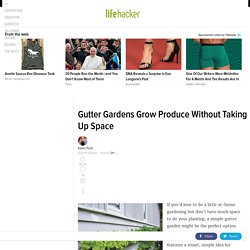 If you'd love to do a little at-home gardening but don't have much space to do your planting, a simple gutter garden might be the perfect option. Alaskan news site Juneau Empire features a smart, simple idea for planting a small vegetable garden with very little space: A windowbox garden built from gutters. In Alaska, this idea solves a few problems for the author: We live near the glacier, so the soil is cold and has very little organic matter, there are lots of big trees shading it, and we have all the slugs and root maggots anyone could want, with porcupines, cats, bears and ravens meandering to boot. There is only one side of our house that gets much sunshine, and, of course, that side of the house has the smallest yard. Even if your garden doesn't face the same problems, the idea behind the gutter garden could be perfect if you're low on space but would kill for some homegrown veggies.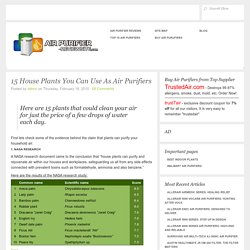 Posted by admin on Thursday, February 18, 2010 · 92 Comments Here are 15 plants that could clean your air for just the price of a few drops of water each day. First lets check some of the evidence behind the claim that plants can purify your household air: 1.
In the late 1980s, NASA and the Associated Landscape Contractors of America studied houseplants as a way to purify the air in space facilities. They found several plants that filter out common volatile organic compounds (VOCs). Lucky for us the plants can also help clean indoor air on Earth, which is typically far more polluted than outdoor air. Other studies have since been published in the Journal of American Society of Horticultural Science further proving the science . Here's our handy of list of the best air-filtering plants.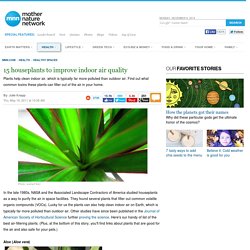 Use quotes as a border in a childrens room or group space. by elisefields Mar 26