Home
DIY Solar Lamp: Make Your Own Eco-Friendly Sun Jars. The principle is simple and seductively clever: solar lights that store energy during the day and release light at night.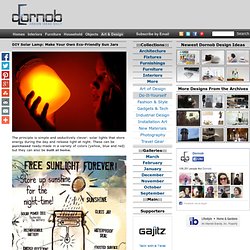 These can be purchased ready-made in a variety of colors (yellow, blue and red) but they can also be built at home. A simple, less-technical approach involves buying a conventional solar-powered yard lamp and then essentially harvesting it for key pieces to put in a jar. This is simply a way of taking an existing solar lamp design and appropriating its parts to make something more attractive for display around a house or home.
Gutter plants. House Plants Air Purifiers. Posted by admin on Thursday, February 18, 2010 · 68 Comments Here are 15 plants that could clean your air for just the price of a few drops of water each day.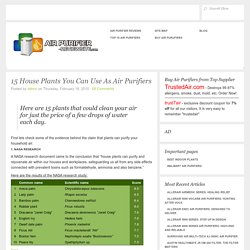 First lets check some of the evidence behind the claim that plants can purify your household air: 1. Houseplants improve indoor air quality. Various quotations.
---
elisefields Mar 26 2011

Use the space under each step of the staircase as storage
---