Ecoles supérieures d'art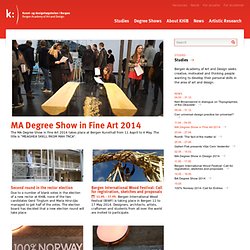 Bergen National Academy of the Arts
Alistair Payne, Glasgow, adresses indisciplinarity through themes across the painting surface and the painted surface, as well as through projection and the moving image in his artistic research.
lhi.is
Home - LIT
Taiteiden ja suunnittelun korkeakoulu - Aalto-yliopisto
UQO | Université du Québec en Outaouais | Sois reconnu
Université du Québec à Trois-Rivières - Entreprise et partenaire
École des arts visuels | Université Laval
Félicitations pour votre admission à l'UQAM. Au nom de l'ensemble des membres de la communauté universitaire, nous vous souhaitons une année scolaire des plus stimulantes. Soyez assurés que tout au long de vos études à l'UQAM, nous mettrons à contribution nos valeurs d'engagement, d'ouverture, de créativité, de solidarité et d'innovation pour vous assurer une formation de grande qualité, des services répondant à vos besoins ainsi qu'un milieu de vie propice à votre réussite.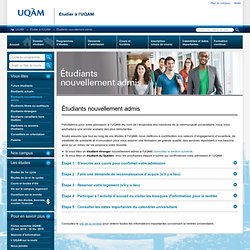 tudier à l'UQAM | Je suis admis
MyConcordia - Your gateway to internal resources - Concordia University
Welcome to the Faculty of Fine Arts - Faculty of Fine Arts - Concordia University - Montreal, Quebec, Canada
École d'Art d'Avignon «
ensa Bourges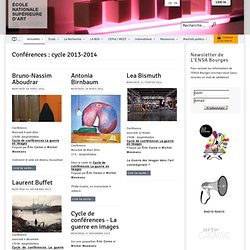 L'avenir du passé, politiques de l'archive
Mercredi 27 novembre 2013 Sur une proposition Eric Corne et Michel Weemans « Sage comme une image » Il n'y a pas de dicton qui semble a priori sonner plus faux aujourd'hui, à en juger par les passions que les images ne cessent de déchaîner. » (R.
Actu - ESAB - École supérieure d'arts de Brest
Ecole européenne supérieure d'art de Bretagne - site de Lorient: Accueil
Pavillon Bosio
6 novembre 2013 • La XXe Semaine Folle de l'ESAD de Reims s'annonce comme toutes celles qui l'on précédée : exceptionnelle !
Ecole Supérieure d'Art et de Design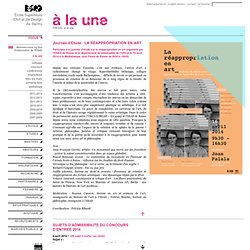 Library / L'Ecole de design Nantes Atlantique