Isabella
Isabella stewart gardner. John Singer Sargent's Isabella Stewart Gardner. Isabella Stewart Gardner John Singer Sargent -- American painter 1888 Isabella Stewart Gardner Museum, Boston Oil on cavas 190 x 81.2 cm (74 3/4 x 32 in.)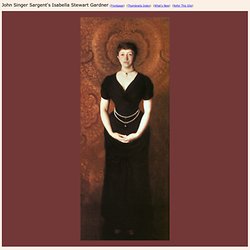 Jpg: Carol Gerten's Fine Art Much of the wealth of European art that American now has in its museums has a lot to do with a small handful of very farsighted and eccentric art collectors during the Gilded Age . John Lowell Gardner II. John "Jack" Lowell Gardner II (November 26, 1837 – December 10, 1898) was an American businessman, art collector, and philanthropist.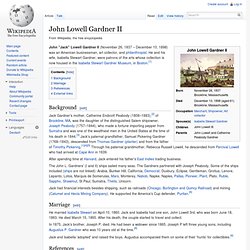 He and his wife, Isabella Stewart Gardner, were patrons of the arts whose collection is now housed in the Isabella Stewart Gardner Museum, in Boston.[1] Background[edit] After spending time at Harvard, Jack entered his father's East Indies trading business. The John L. Gardners' (I and II) ships sailed many seas. Isabella Stewart Gardner. Isabella Stewart Gardner (April 14, 1840 – July 17, 1924) – founder of the Isabella Stewart Gardner Museum in Boston – was an American art collector, philanthropist, and one of the foremost female patrons of the arts.
Isabella Stewart Gardner had a zest for life, an energetic intellectual curiosity and a love of travel. She was a friend of noted artists and writers of the day, including John Singer Sargent, James McNeill Whistler, Anders Zorn, Henry James, Okakura Kakuzo and Francis Marion Crawford. Isabella Stewart Gardner in Venice (1894), by Anders Zorn (Gardner Museum) Biography[edit] Isabella Stewart, daughter of David Stewart and Adelia Smith, was born in New York City on April 14, 1840.
---