Games
Popular games. NESbox is an emulator of NES, Super Nintendo, Sega Mega Drive video consoles, built on Adobe Flash technology and it can only be run directly in your browser's window.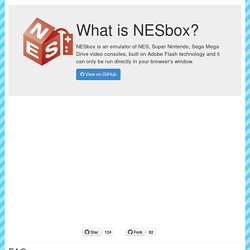 View on GitHub Where can you find ROM files? N64 Drinking Game. Vimms Lair Emulator classic. The Vault contains every game ever released in the US for the Nintendo, Super Nintendo, Genesis, Nintendo 64, Game Boy, Game Boy Color, and Game Boy Advance.
Each game has detailed information, screen shots, codes, user submitted ratings and reviews, and more! Nothing beats the feel of a real controller in your hand, so now you can purchase games and consoles here at Vimm's Lair and have them shipped right to your door! Hundreds of used NES and SNES games are currently available, and all proceeds go towards the continued maintenance of Vimm's Lair. Need help? Don't know what to do? pSX emulator.
MAME Roms - 0-9.
Flash 2P
Flash 1P.
---