okunacaklar-izlenilecekler/to be read-watched
Get flash to fully experience Pearltrees
One of the most surprising, and gratifying, things that has happened since I started my blog, Tim Maughan Books , a year or so ago is the positive feedback I've had for the anime reviews—especially from people I know are far from being massive fanboys like myself. It's gratifying because its part of the reason I started writing them; to try and introduce the medium to people who had never really indulged in it all, at least not past perhaps watching Spirited Away with their kids. The problem is, once you've had your first taste, where do you go next? Type 'anime' into Google and the results are bewildering, and without a little bit of guidance and a quality filter finding something to watch can be a daunting task. There's a lot of shit out there, plus a lot of stuff that isn't really meant for you…unless you're a ADHD stricken 12 year old emo-ninja-obsessed boy that refuses to eat anything except Pocky and instant Ramen.
It's no secret that America's sprawling, car-dependent exurbs were Ground Zero for the economic meltdown. These "drive 'til you qualify" communities were built on risky decisions and over-leveraged debt—buyers betting that the price of gasoline for commuting wouldn't go up too much, or that they'd be able to sell their pricey McMansions before their artificially low mortgages reset. Millions of homeowners lost that bet, and the entire world paid the economic price. But we haven't gotten rid of the danger. In fact, the worst might be yet to come.
Articles Alan Kirby says postmodernism is dead and buried. In its place comes a new paradigm of authority and knowledge formed under the pressure of new technologies and contemporary social forces. I have in front of me a module description downloaded from a British university English department's website. It includes details of assignments and a week-by-week reading list for the optional module 'Postmodern Fictions', and if the university is to remain nameless here it's not because the module is in any way shameful but that it handily represents modules or module parts which will be taught in virtually every English department in the land this coming academic year.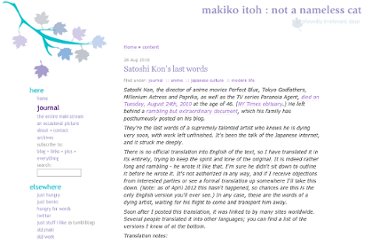 Satoshi Kon, the director of anime movies Perfect Blue, Tokyo Godfathers, Millenium Actress and Paprika, as well as the TV series Paranoia Agent, died on Tuesday, August 24th, 2010 at the age of 46. ( NY Times obituary .) He left behind a rambling but extraordinary document , which his family has posthumously posted on his blog. They're the last words of a supremely talented artist who knows he is dying very soon, with work left unfinished. It's been the talk of the Japanese internet, and it struck me deeply.