Ilham/inspiration
The BIGGEST ever list of design resources! - ProofHQ. Following the huge success of last year's "World's Biggest Ever List of Graphic Design Blogs", we've decided that we should turn it into an annual event – after all, more people than ever before are blogging and the talent pool continues to grow.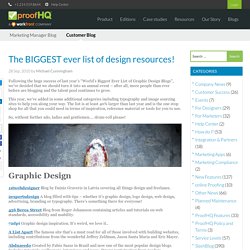 This year, we've added in some additional categories including typography and image sourcing sites to help you along your way. The list is at least 40% larger than last year and is the one stop shop for all that you could need in terms of inspiration, reference material or tools for you to use. So, without further ado, ladies and gentlemen…. drum-roll please! Graphic Design. Playing with Displace Filter in Photoshop. I have been playing a lot with the Displace filter in Photoshop and I still get impressed with how powerful it is.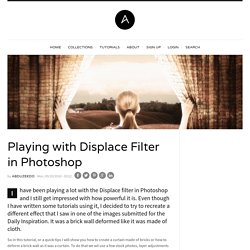 Even though I have written some tutorials using it, I decided to try to recreate a different effect that I saw in one of the images submitted for the Daily Inspiration. It was a brick wall deformed like it was made of cloth. So in this tutorial, or a quick-tips I will show you how to create a curtain made of bricks or how to deform a brick wall as it was a curtain. To do that we wil use a few stock photos, layer adjustments and the Displace filter in Photoshop CS5. Behance Network :: Gallery. Dexigner. From up North | Design inspiration & news.
Colossal | An art and design blog. Cinéma. Visual News. Typo/graphic posters. Project Graphics is a leading creative factory that brings together a group of young and inspiring talents in the field of brand identity, print and editorial design, packaging, interactive design and architecture.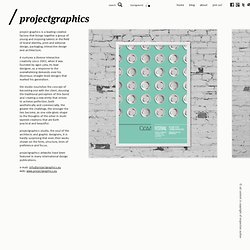 It nurtures a diverse interactive creativity since 2002, when it was founded by Agon Çeta, its lead designer, as a response to the overwhelming demands over his illustrious straight lined designs that marked his generation. The studio nourishes the concept of becoming one with the client, dousing the traditional perception of this bond and creating a new entity that strives to achieve perfection, both aesthetically and commercially. The greater the challenge, the stronger the ties become, as one side gives shape to the thoughts of the other in multi-layered creations that are both practical and beautiful. Eski Otomobillerin "Broşürleri || Reklamları || İlanları" Harika bir çalışma.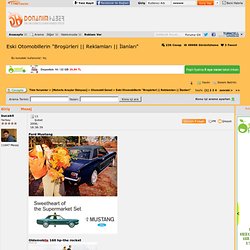 Çok çok teşekkürler. Özellikle 55, 56, 57 Chevrolet Belair ve diğer klasik Amerikanlar harikaydı. Tabi beni ilgilendiren Murat 124 ve 131 ise ayrıca güzeldi. Beyaz 124 bana çocukluğumda sahibi olduğumuz 124'ü hatırlattı ve beni o günlere götürdü. 131 kataloğu ise babamın 1981 yılında 124'ü satıp 131 alacağı günü ve benimde "o 131 kapının önüne gelsin, yakacağım onu, parçalayacağım, sen nasıl satarsın 124'ü" dediğim günü aklıma getirdi ve beyaz 131'i görünce 124'ü çoktan unuttum. Devrim'e gelince, hem mutlu etti beni hemde üzdü. Scouting NY.
---