Nähen
Little Factory Serif Tote Bag! - #26563. Circle skirt calculator – for the drafting of full, half and 3/4 skirts. With bonus grading worksheet! | The Snug Bug. Special Sunday greetings you naked molerats!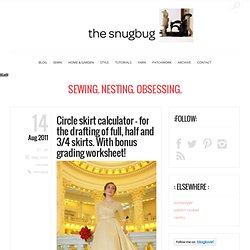 Since you're so naked, I thought you might want to make yourselves some nice little circle skirts. And perhaps, like me, you find yourself with little mole rat patterns just a touch on the small side. But the grading of a circle skirt isn't so easy, is it you naked rodents? Oh no, not so easy at all… Free Pattern to Download: The Madeleine Mini Bloomers.
Valentine's day is coming this weekend, and whether you love it or hate it, you must admit having something adorable to lounge around in makes any day that much sweeter.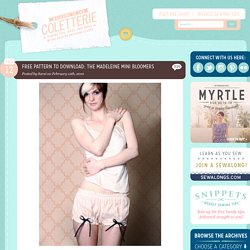 So I present to you the madeleine mini bloomers, a free sewing pattern that you can download! It takes only a yard of fabric (along with some elastic and ribbon), and an hour or two of sewing to whip up these pretties. These are no prim and proper Victorian bloomers, as you can see. They sit low on the waist, and are scandalously brief. The back view is particularly flattering.
---