Winemaking / liquor
Build a Cheap Hydrometer
Home Distiller • View topic - amaretto
I tried this recipe and it's great. However, here's what I did (forgive the pedantry) - get the best coffee beans you can.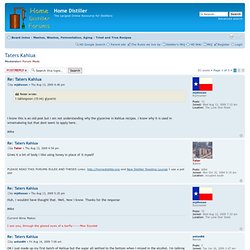 Home Distiller • View topic - Taters Kahlua
Home Distiller • View forum - Tried and True Recipes
Winemaking Lesson 13 - Transferring to secondary fermentation
Winemaking Lesson 16 - Clarifying
Ok, there are tons of homemade wine recipes on the internet.
How To Make Wine In Just One Week