Environment
Urban Tree Cruisers
Cycling For Fresh Water
Biking v. Driving, It's About Perception
Microsoft is Going Carbon Neutral Microsoft is instituting a companywide commitment to achieve carbon neutrality beginning in fiscal year 2013. The foundation of our new commitment is an internal carbon fee, which will place a price on carbon based on current market pricing for a portfolio of renewable energy and carbon offset projects. Learn more »
Infographic: How Green Are These Female Bloggers?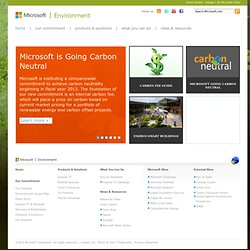 Karen Jaskolka, Group Program Manager, Microsoft Hohm
Environment - how to get involved
unnamed pearl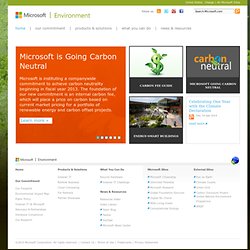 Microsoft is Going Carbon Neutral Microsoft is instituting a companywide commitment to achieve carbon neutrality beginning in fiscal year 2013. The foundation of our new commitment is an internal carbon fee, which will place a price on carbon based on current market pricing for a portfolio of renewable energy and carbon offset projects.