Vocaloid Information
Vocaloid List & Picture
Nendoroid Petit: Vocaloid #01 12 Pieces (PVC Figure) Item picture8
Vocaloid
Vocaloid (ボーカロイド, Bōkaroido?) is a singing voice synthesizer. Its signal processing part was developed through a joint research project led by Kenmochi Hideki at the Pompeu Fabra University in Barcelona, Catalonia, Spain, in 2000 (the same team that later founded Voctro Labs[1]) and originally was not intended to be a full commercial project. Backed by the Yamaha Corporation, it developed the software into the commercial product "Vocaloid."[2][3] The software enables users to synthesize singing by typing in lyrics and melody.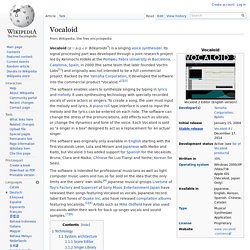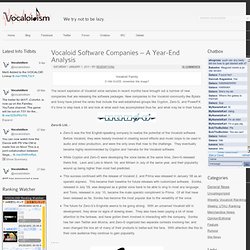 Vocaloid Software Companies – A Year-End Analysis | Vocaloidism
O HAI GUIZE, remember this image? The recent explosion of Vocaloid voice samples in recent months have brought out a number of new companies that are releasing the software packages. New companies to the Vocaloid community like Bplats and Sony have joined the ranks that include the well-established groups like Crypton, Zero-G, and PowerFX. It's time to step back a bit and look at what each has accomplished thus far, and what may be in their future.
VPVP
Character created - Only My Railgun‬‏