Software & engines
Software engine. A software engine refers to a central part of a computer program.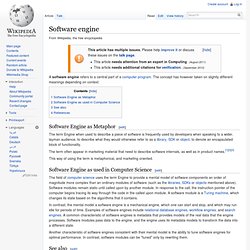 The concept has however taken on slightly different meanings depending on context. [edit] The term often appear in marketing material that need to describe software internals, as well as in product names.[1][2][3] This way of using the term is metaphorical, and marketing oriented. Software Engine as used in Computer Science[edit]
Engineering Software. Science Software. Transducer Software. Programmer's Heaven - Ruby, .NET, C#, C++, PHP, Python, Java - It's all here!
Corporation: Software, Smartphones, Online, Games, Cloud Computing, IT Business Technology, Downloads. Borland Software Solutions for Change Management, Asset Management, Test Automation and more – Borland. Computer Languages. Software Industry People & Programmer.
---