Selected Website Articles from Others
Catherine (@CatherineQ) sur Twitter. Q Space. Sea Shepherd (SeaShepherd_Aus) sur Twitter. The Beast Transforms into a Beauty as Godzilla Becomes the Brigitte Bardot. May 25, 2011 The Brigitte Bardot dockside.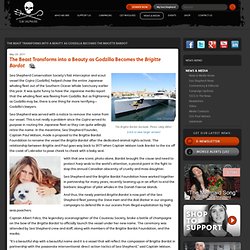 Photo: Libby Miller (click to view larger version)Sea Shepherd Conservation Society's fast interceptor and scout vessel the Gojira (Godzilla) helped chase the entire Japanese whaling fleet out of the Southern Ocean Whale Sanctuary earlier this year. Debbie McCalley (DebbieMcCalley) sur Twitter. Gift Baskets, Fruit Baskets, Holiday Baskets, Birthday Gifts, Baby Gifts. ANEW - A Network of Exceptional Women Monthly Meetup - ANEW - A Network of Exceptional Women (Colorado Springs, CO.
Tim Jenkins (BattleStudio) sur Twitter. Battle! Studio.
BDevine (DevineMiracles) sur Twitter. Devine Miracles Psychic /Medium/Angel Intuitive. The Fools' journey - Chicago Spiritual Living. We, as human beings, are often times prone to a nature of fear of the unknown and uncertainty when in the face of changes, both big and small.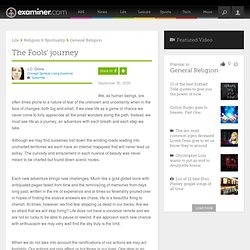 If we view life as a game of chance we never come to fully appreciate all the small wonders along the path. Instead, we must see life as a journey, an adventure with each breath and each step we take. Although we may find ourselves lost down the winding roads leading into uncharted territories we each have an internal mapquest that will never lead us astray. The curiosity and amazement in each nuance of beauty was never meant to be charted but found down scenic routes. Each new adventure brings new challenges. The Goddess Ways - Intuitive Healing with Laleh Ameri. Meredith Meyer. Biography | Meredith Meyer. Is a native of Oklahoma City, OK.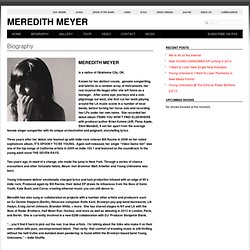 Known for her distinct vocals, genuine songwriting, and talents on a random array of instruments, her real musical life began after she left home as a teenager. After some epic journeys and a solo pilgrimage out west, she first cut her teeth playing around the LA music scene in a number of local bands, before turning her focus solo and recording two LPs under her own name. She recorded her debut album ITEMS YOU WON'T FIND ELSEWHERE with producer/author Brian Kehew (AIR, Fiona Apple, Eleni Mandell). It set her apart from the average female singer-songwriter with its unique orchestration and poignant, storytelling lyrics.
Three years after her debut, she teamed up with indie-rock veteran Bill Racine in 2008 on her noted sophomore album, IT'S SPOOKY TO BE YOUNG. Rome Viharo (rome_viharo) sur Twitter. And intuitions. From New Scientist.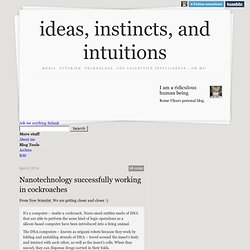 We are getting closer and closer :) It's a computer – inside a cockroach. Nano-sized entities made of DNA that are able to perform the same kind of logic operations as a silicon-based computer have been introduced into a living animal.The DNA computers – known as origami robots because they work by folding and unfolding strands of DNA – travel around the insect's body and interact with each other, as well as the insect's cells.
When they uncurl, they can dispense drugs carried in their folds. "
---