Internet Filters
Filters Continue to Censure and Remains a Problem for Many (Middle East Gets Upset)
Bit.Ly is Censored & considered as Malicious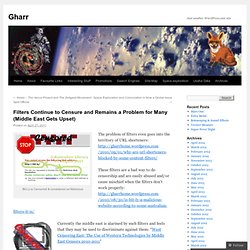 March 2011 Authored by Helmi Noman and Jillian C. York. To view this bulletin as a PDF, click here .
West Censoring East: The Use of Western Technologies by Middle East Censors, 2010-2011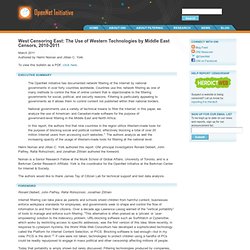 By PAUL SONNE And STEVE STECKLOW Reuters
U.S. Products Help Block Mideast Web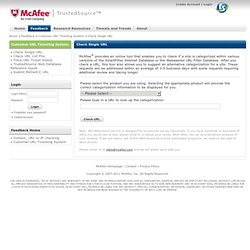 Check Single URL
McAfee ® provides an online tool that enables you to check if a site is categorized within various versions of the SmartFilter Internet Database or the Webwasher URL Filter Database.
Why are URL shorteners blocked by some content filters?
URL shortening is a technique on the World Wide Web in which a Uniform Resource Locator (URL) may be made substantially shorter in length and still direct to the required page.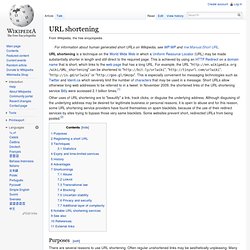 URL shortening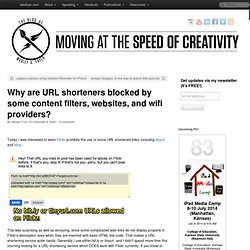 Why are URL shorteners blocked by some content filters, websites, and wifi providers? « Moving at the Speed of Creativity
Today I was interested to learn Flickr prohibits the use of some URL shortened links, including tinyurl and bit.ly .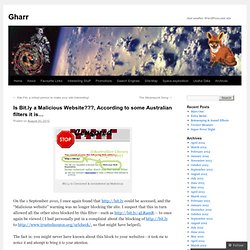 Bit.Ly is Censored & considered as Malicious On the 1 September 2010, I once again found that http://bit.ly could be accessed, and the "Malicious website" warning was no longer blocking the site. I suspect that this in turn allowed all the other sites blocked by this filter — such as http://bit.ly/4LRamR — to once again be viewed ( I had personally put in a complaint about the blocking of http://bit.ly to http://www.trustedsource.org/urlcheck/ , so that might have helped).
Is Bit.ly a Malicious Website???, According to some Australian filters it is…
Since it became the default URL shortener for Twitter, Bit.ly has been growing like crazy .
Bit.ly Starts Warning About Malicious Links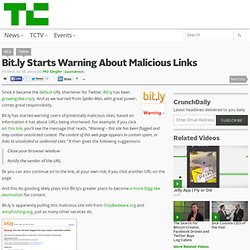 yes it is, I use it all the time. There can be trust issues (unkown redirection) and link rot: http://en.wikipedia.org/wiki/URL_shortening, so use it at the right times. by electronics Mar 14
Twitter now automatically shortens the URL's for you but bit.ly is still useful. by electronics Sep 21