Data Mining
Data Mining -team curated. Behavioral targeting. Behavioral Targeting refers to a range of technologies and techniques used by online website publishers and advertisers which allows them to increase the effectiveness of their campaigns by capturing data generated by website and landing page visitors.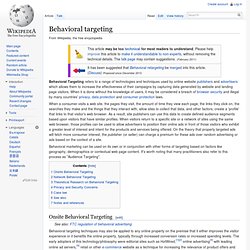 When it is done without the knowledge of users, it may be considered a breach of browser security and illegal by many countries' privacy, data protection and consumer protection laws. When a consumer visits a web site, the pages they visit, the amount of time they view each page, the links they click on, the searches they make and the things that they interact with, allow sites to collect that data, and other factors, create a 'profile' that links to that visitor's web browser.
Online Behavioral Tracking. Skip to main content Electronic Frontier Foundation Defending your rights in the digital world Search form Main menu Online Behavioral Tracking.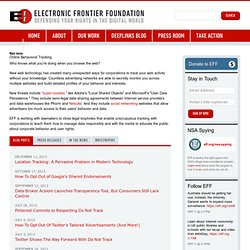 Behavioral Targeting. Issue Behavioral targeting provides advertising to Internet users based on Web surfing habits.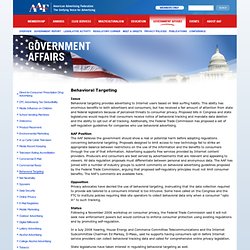 This ability has enormous benefits to both advertisers and consumers, but has received a fair amount of attention from state and federal legislators because of perceived threats to consumer privacy. Proposed bills in Congress and state legislatures would require that consumers receive notice of behavioral tracking and mandate data deletion and the ability to opt-out of all tracking. Additionally, the Federal Trade Commission has proposed a set of self-regulation guidelines for companies who use behavioral advertising.
AAF Position The AAF believes the government should show a real or potential harm before adopting regulations concerning behavioral targeting. » Your iPhone Is Tracking You. It turns out the iPhone may be a little sneakier than you thought.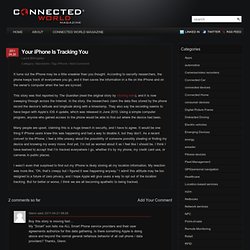 According to security researchers, the phone keeps track of everywhere you go, and it then saves the information in a file on the iPhone and on the owner's computer when the two are synced. This story was first reported by The Guardian (read the original story by clicking here), and it is now sweeping through across the Internet. What Do Behavioral Targeters Know About You?: Tech News and Analysis « While relevant advertising is the only kind that's useful, it's creepy to see behavioral ads following you around the web, advertising that trip to Hawaii you'd researched last week when you're just trying to read the news.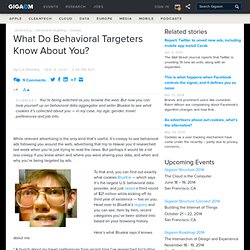 But perhaps it would be a lot less creepy if you knew when and where you were sharing your data, and when and why you're being targeted by ads. To that end, you can find out exactly what cookies BlueKai — which says it's the largest U.S. behavioral data provider, and just raised a third round of $21 million while kicking off its third year of existence — has on you. Head over to BlueKai's registry and you can see, item by item, recent categories you've been slotted into based on your browsing history.
Privacy Lawsuits Increase in 2010 Due to Online Behavioral Tracking | news | press-room. Privacy Lawsuits Increase in 2010 Due to Online Behavioral Tracking Boca Raton, Fla. – January 25, 2011 – According to the Information Law Group, which concentrates on legal issues around privacy, data security, information technology and e-commerce, 2010 was a banner year for privacy-related lawsuits.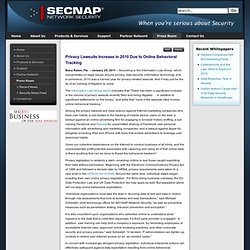 And it may just be the tip of an iceberg of litigation to come. The Information Law Group report indicates that "There has been a significant increase in the volume of privacy lawsuits recently filed and being litigated … in addition to significant settlements on the books," and adds that "most of the lawsuits cited involve online behavioral tracking." : Behavioral Advertising : Legal Bytes.
The Adword Lawsuit Now D (Defendant) buys competitor's words from a search engine, you see.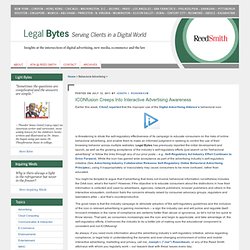 What words do they buy? Data dredging. Data dredging (data fishing, data snooping, equation fitting) is the use of data mining to uncover relationships in data.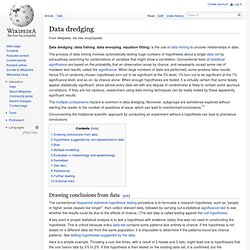 The process of data mining involves automatically testing huge numbers of hypotheses about a single data set by exhaustively searching for combinations of variables that might show a correlation. Conventional tests of statistical significance are based on the probability that an observation arose by chance, and necessarily accept some risk of mistaken test results, called the significance. Lawsuit: Ad Network Could Be Tracking You With HTML5.
HTML5 is an exciting technology with lots of potential.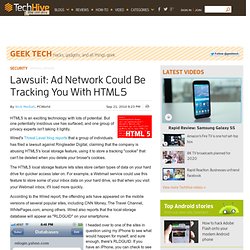 But one potentially insidious use has surfaced, and one group of privacy experts isn't taking it lightly. Wired's Threat Level blog reports that a group of individuals has filed a lawsuit against Ringleader Digital, claiming that the company is abusing HTML5's local storage feature, using it to store a tracking "cookie" that can't be deleted when you delete your broser's cookies. Do Not Track Me! Stop Online Ad Tracking | myID Blog. Cookies are small bits of information that websites store on your computer to track the places you have visited on the Web.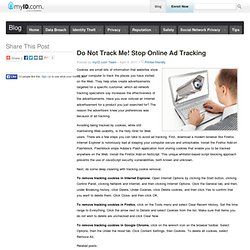 They help sites create advertisements targeted for a specific customer, which ad network tracking specialists say increases the effectiveness of the advertisements. Have you ever noticed an Internet advertisement for a product you just searched for? The reason the advertisers knew your preferences was because of ad tracking. Add 'do not track' to Firefox, IE, Google Chrome | Workers' Edge. The Federal Trade Commission recently announced its intention to promote the addition of a "do not track" mechanism in Web browsers. FTC Chairman Jon Lebowitz said the agency would offer "best practices" to browser makers, according to Declan McCullagh's Politics and Law blog, but wouldn't seek legislation mandating the feature, which likely made browser developers breathe easier. With just a little effort, you can set Mozilla Firefox, Microsoft Internet Explorer, and Google Chrome to clear out and block the cookies most online ad networks and other Web trackers rely on to build their valuable user profiles.
(On WSJ.com, Emily Steel describes the formation by several online tracking firms of the Open Data Partnership that promises to let consumers see what eight such companies--but not Google, Yahoo, or other big-name trackers--know about them.) Affiliate marketing. Affiliate marketing overlaps with other Internet marketing methods to some degree, because affiliates often use regular advertising methods. Those methods include organic search engine optimization (SEO), paid search engine marketing (PPC - Pay Per Click), e-mail marketing, content marketing and in some sense display advertising.
On the other hand, affiliates sometimes use less orthodox techniques, such as publishing reviews of products or services offered by a partner. Affiliate marketing is commonly confused with referral marketing, as both forms of marketing use third parties to drive sales to the retailer.[1] However, both are distinct forms of marketing and the main difference between them is that affiliate marketing relies purely on financial motivations to drive sales while referral marketing relies on trust and personal relationships to drive sales.[1] Matthijs R. Koot's notebook: 1 Database Containing 35.000.000 Google Profiles. Implications? UPDATE 2012-02-16: raver1975 released a SQL database w/35M Google Profiles as .torrent on The Pirate Bay. UPDATE 2011-06-10: Central question in the Google discussion is whether mass-aggregation of profile data by unknown third parties is considered acceptable.
We should neither exaggerate NOR DENY possibilities that public profile data offers to adversaries. Ghostery. Redpoint Ventures. Redpoint Ventures is a venture capital firm focused on investments in early stage technology companies. The firm's partners include Allen Beasley, Jeff Brody, Satish Dharmaraj, Tom Dyal, Tim Haley, Brad Jones, Nety Krishna, Chris Moore, Lars Pedersen, Scott Raney, John Walecka, Geoff Yang, Marjorie Yang, David Yuan and Vivian Yuan. The founders of Redpoint Ventures have been involved with successful investments including Foundry, Juniper Networks, 9flats, Netflix and Right Media.[1] History[edit]
Information Awareness Office. Total Information Awareness (TIA) was a program of the US Information Awareness Office. It was operated from February until May 2003, before being renamed as the Terrorism Information Awareness Program.[4][5] Based on the concept of predictive policing, TIA aimed to gather detailed information about individuals in order to anticipate and prevent crimes before they are committed.[6] As part of efforts to win the War on Terror, the program searched for all sorts of personal information in the hunt for terrorists around the globe.[7] According to Senator Ron Wyden (D-Ore.), TIA was the "biggest surveillance program in the history of the United States".[8] The program was suspended in late 2003 by the United States Congress after media reports criticized the government for attempting to establish "Total Information Awareness" over all citizens.[9][10][11]
Advertising - Firms Track and Sell Data on All Your Web Clicks. The Web's New Gold Mine: Your Secrets | Command the Raven. The news behind the news. ADVISE. NY Times on Online Data Collection and Sharing. Named entity recognition. Information extraction. Web scraping. Screen-scraper Introduction -- Data Extraction & Page Scraping.
---
electronics Oct 25 2011

To team up with me, use the green Data Mining - Team Curated pearltree ball. I do not generally team up on trees that are very full as I make use of them and promote them.
---