Business Plan
How to Write a 'Killer' Business Plan By: Robert Warlow - Small Business Success Writing a Business Plan can be a daunting task. You have so many ideas floating around in your head that it can be difficult to capture them all in a logical format. However, committing time to writing an effective Plan can help improve your chances of success.
How to Write a Killer Business Plan - Small Business [HQ]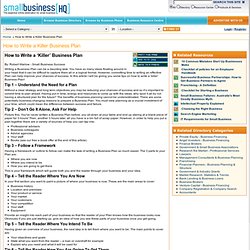 A business plan is a formal statement of a set of business goals, the reasons they are believed attainable, and the plan for reaching those goals. It may also contain background information about the organization or team attempting to reach those goals. Business plans may also target changes in perception and branding by the customer, client, taxpayer, or larger community.
ANZ - ANZ's guide to writing a business plan
Business Plans & Checklists - Home
Business Plan Templates and Free Sample Business Plans — Bplans
Get inspired with our gallery of over 500 example business plans. Choose the category that is closest to your own business or industry, and view a plan you like. LivePlan includes all 500 sample plans, so you can easily reference any of them when you're writing your own plan.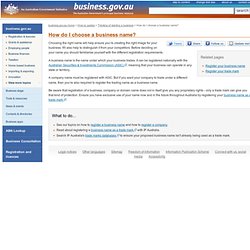 How do I choose a business name?
Choosing the right name will help ensure you're creating the right image for your business. It'll also help to distinguish it from your competitors. Before deciding on your name you should familiarise yourself with the different registration requirements. A business name is the name under which your business trades. It can be registered nationally with the Australian Securities & Investments Commission (ASIC)