Basic
This is a computer language. Feb 14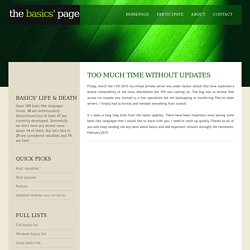 The Basics' Page website is open to new editors! One of the most frequent claim I get is that the web site does not list interpreters ( why? ).
Linux Basics list
FreeBASIC compiler (a free BASIC compiler) - official page - Downloads [en]
vmbasic - Basic Language Compiler with Virtual-Machine Runtime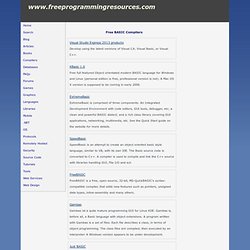 Free BASIC Compilers
KBasic 1.0 Free full featured Object orientated modern BASIC language for Windows and Linux (personal edition is free, professional version is not). A Mac OS X version is supposed to be coming in early 2006. ExtremeBasic ExtremeBasic is comprised of three components: An Integrated Development Environment with code editors, GUI tools, debugger, etc; a clean and powerful BASIC dialect; and a rich class library covering GUI applications, networking, multimedia, etc. See the Quick Start guide on the website for more details.
PureBasic : Native compiler, easy & optimized BASIC programming language
Free Basic compilers, IDE's and Basic developers tools - Freebyte
Visual Basic Language
Visual Basic .NET, the next generation of the Visual Basic language, is a fast and easy way to create .NET-based applications, including XML Web services and Web applications. Visual Basic .NET has many new and improved features that make it a powerful object-oriented programming language, including inheritance, interfaces, and overloading. Other new language features include free threading and structured exception handling.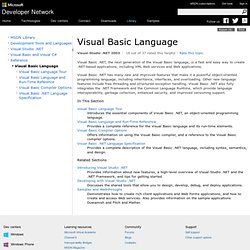 Basic Programming Language :: thinBasic
Just BASIC - Free programming language
GLBCC - GNU/Liberty Basic Compiler Collection